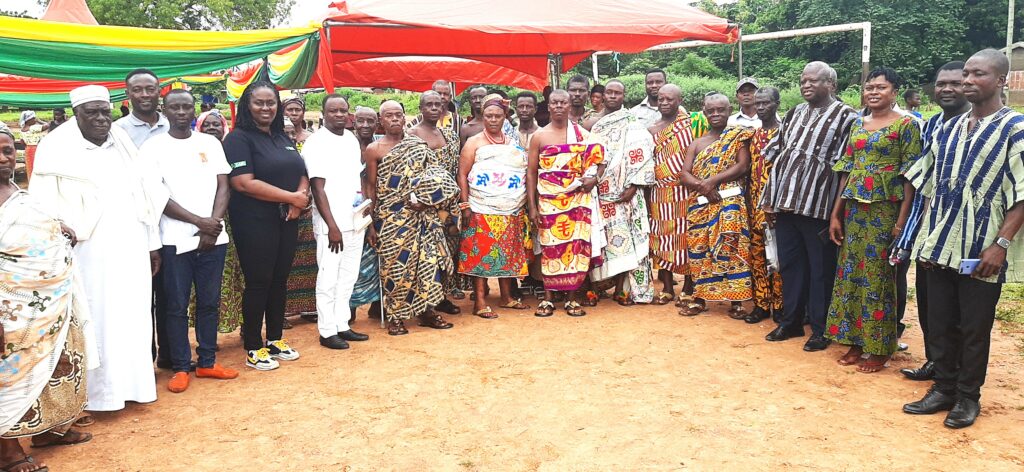 In Ghana, as in many other countries, women face challenges accessing extension advisory services. To improve the provision for women, in 2021, PlantwisePlus assessed the barriers to women's participation in and access to extension services. The programme team used an FAO-developed tool called the Gender and Rural Advisory Services Assessment (GRAST).
This tool identifies challenges at the national enabling environment, organizational, and individual level, making recommendations for action. Stakeholders validated and published the report in 2022. In response to the findings, a multi-stakeholder platform has been established to oversee the action of recommendations. It also facilitates a programme of activities to address the underlying factors contributing to inequality of access.
At the individual farmer level, barriers to advisory services exist for women farmers due to social norms. These norms dictate who attends extension activities. In the Bono and Central regions, women thought extension services were for men only. So, they wouldn't participate if their husbands were available. Women in farmers' groups did feel empowered to seek advice. However, simply joining a group was not enough. In male-dominated groups, women stay silent and don't engage.
The PlantwisePlus programme and partners are piloting a social and behavioural change communication approach to respond to these challenges. The campaign uses local radio, community information broadcast centres and community dialogues (durbars) to open up discussion around these issues within rural communities. The campaign also highlights the benefits for the whole community when women are enabled to participate equally. The partners for this campaign include Farm Radio International, the Women in Agricultural Development and Agricultural Extension Services Directorates of the Ministry of Food and Agriculture, and the Departments of Agriculture in the Bono and Ahafo regions.
Organizing community durbars on gender barriers to agriculture
PlantwisePlus is working with the Department of Agriculture (DOA) in Ghana's Bono and Ahafo regions to support a series of community-level multi-stakeholder dialogues. This community engagement initiative is modelled on a common local practice known as durbars. These are community-organized meetings, often at the instance of the village chief or community leaders. They usually involve all key actors and influential members of the community. Durbars are where they take collective decisions and find commonly agreed solutions to specific issues of keen interest to the town or village.
Twenty communities in Ghana's two key agrarian regions are piloting the community durbars on gender barriers. Each meeting brings together all relevant stakeholders and actors, including community chiefs, opinion leaders, local government officials, representatives of DOAs, extension agents and farmer groups. Here, they discuss and seek solutions to known socio-cultural issues and traditions that affect women farmers and prevent them from fully participating in and benefiting from agricultural services.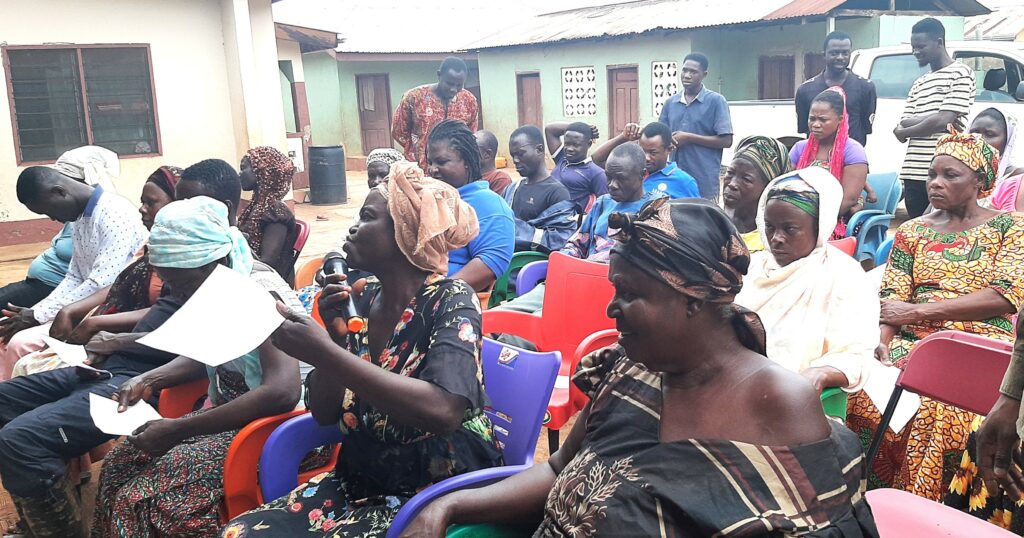 The durbars create an avenue for dialogue around issues limiting women's access to agricultural advisory services in the targeted communities. They also raise awareness among all community stakeholders on how these barriers affect women farmers' livelihoods and well-being. Plus, agricultural productivity in general.
These engagements also provide an opportunity to get all relevant stakeholders together to address the socio-cultural barriers to equitable rural advisory services. And to commit to creating the enabling environment for women farmers' unrestricted access to extension services.
What do participants share about gender barriers at the community durbars?
The dialogues are organized in an open and liberal atmosphere. This ensures that all participants, irrespective of their social status in the community, have the courage and opportunity to express themselves freely. They can share their challenges and contribute to the discussions on the subject matter.
Among the common gender-related challenges raised and discussed at most of the durbars are:
the lack of recognition for women's contribution to agricultural production
specific taboos that hinder women's full participation in farming activities
cultural stereotypes that place nearly all responsibility for unpaid domestic and reproductive work on women
women's limited voices in household farming decision-making
restricted access to or ownership of land
low financial independence
Communities have embraced the dialogues well. Most participants, including chiefs and community leaders, have acknowledged that the gender-based socio-cultural barriers in agriculture are real. They recognise the need to correct them to maximize the benefits of farming for women and wider society.
Community views and endorsement
Nana Asamoah, the Krontihene (deputy community chief), shared his views at the close of the durbar at Kubeti in Ahafo.
"This meeting has shed a critical light on some important aspects of our life that need rethinking. It is evident that changing some of these old ways of thinking and doing things will bring improvements in our lives and work as farmers, and we are committed to doing that."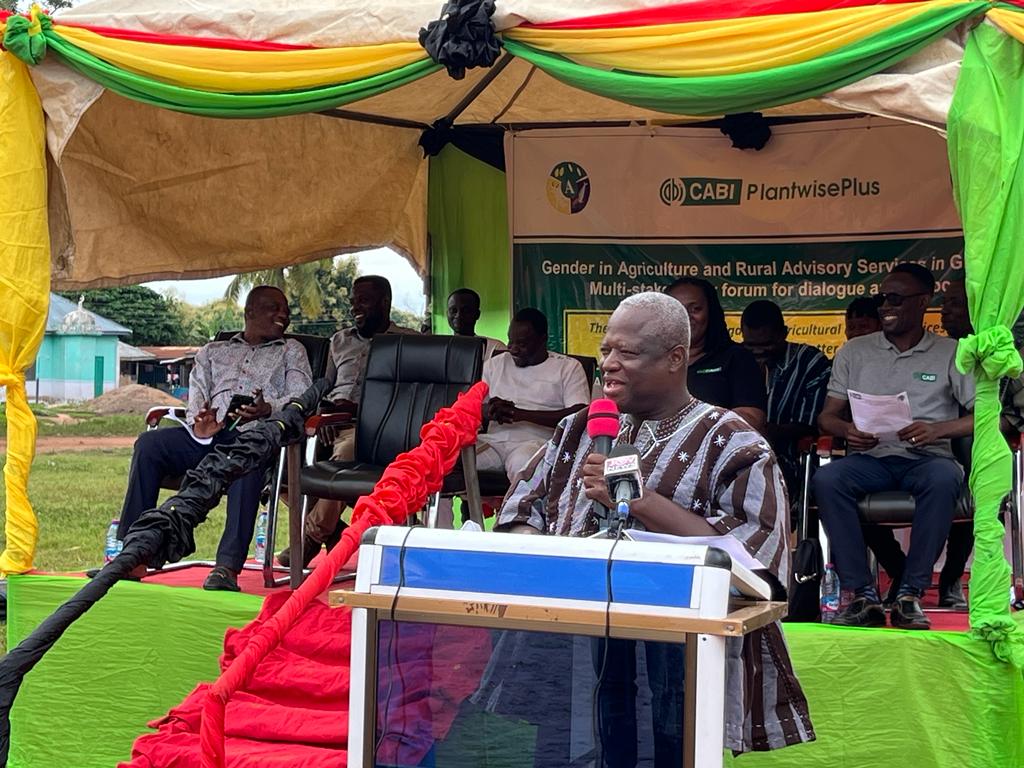 Similarly, the Krontihene of Njau, a community in the Tain district of Bono region, Nana Abrutua Amponsah, expressed his delight at this durbar. Particularly that it has brought to the fore some of the real socio-cultural challenges that people face—especially women farmers, to whom very little attention has been paid over the years.
Nana Abrutua added that "these barriers are not quite new to us as a people. What we have lacked over the years is to come together at a forum like this to discuss and find solutions that will inure to the benefit of all. We are glad that today, CABI and the DOA have set the tone for this discourse for us. We will continue to engage each other on these gender barriers and pursue the needed changes at all levels".
PlantwisePlus: Enhancing gender-sensitive farmer advisory services
CABI's Birgitta Oppong-Mensah shed more light on the work addressing barriers to gender-equitable agricultural advisory services at the durbar in Njau. She explained that CABI is working to build the capacity of service providers, chiefly the Ministry of Food and Agriculture staff and the DOAs. This will make them more aware and sensitive to these gender issues when planning and delivering advisory services to farmers.
"We are hoping that once the policy makers and implementers make necessary considerations and provisions in response to the peculiar conditions and needs of women farmers, they (women farmers) will feel more empowered and encouraged to put in more effort, leading ultimately to increased productivity."
CABI seeks to enhance the knowledge and uptake of climate-adaptive and integrated pest management crop production approaches. This ensures that women and men farmers can equitably access and benefit from agricultural advisory services.
In the coming months, the programme hopes to reach more communities with gender dialogues. And concurrently engaging decision-makers at the national level in meaningful discourse to push for effective implementation of gender mainstreaming strategies and targets in agricultural policies.
Also, ongoing training in several districts will enhance the capacity of extension agents in the planning and delivery of gender-sensitive advisory services. A gender in extension services manual, currently in development, will also further equip and strengthen the extension agents.
This set of complementary initiatives is focused on awareness creation, advocacy, and capacity building. Through this, CABI hopes to trigger the requisite attitudinal, behavioural and systemic changes needed to address the identified gender inequities at various levels. Thus creating an enabling environment for improved access to agricultural advisory services for all farmers in the country.
---
Find out more
Bridging the Gender Gap in the Agriculture sector- A multi-stakeholder approach needed
Radio campaign seeks to break down barriers to gender-equitable agricultural extension services
Gender-sensitive rural advisory services in Ghana come under the spotlight in training workshop
Supporting women farmers by boosting the skills of agricultural advisory services
Assessing gender and rural advisory services in Ghana
Why it's important to prioritize unpaid care work in the agriculture sector
How community conversations help to close the gender gap in Burundi
Women farmers in Pakistan aren't realising their potential – here's why
---
PlantwisePlus gratefully acknowledges the financial support of the Directorate-General for International Cooperation (DGIS), Netherlands; European Commission Directorate General for International Partnerships (INTPA, EU); the Foreign, Commonwealth & Development Office (FCDO), United Kingdom; the Swiss Agency for Development and Cooperation (SDC); the Australian Centre for International Agricultural Research (ACIAR); the Ministry of Agriculture of the People's Republic of China (MARA) 
Related News & Blogs
Last month a series of digital tools workshops occurred in Southern Jamaica. Organized by the PlantwisePlus team in collaboration with the Rural Agricultural Development Agency (RADA). These workshops aimed to showcase and promote the PlantwisePlus dig…
8 December 2023