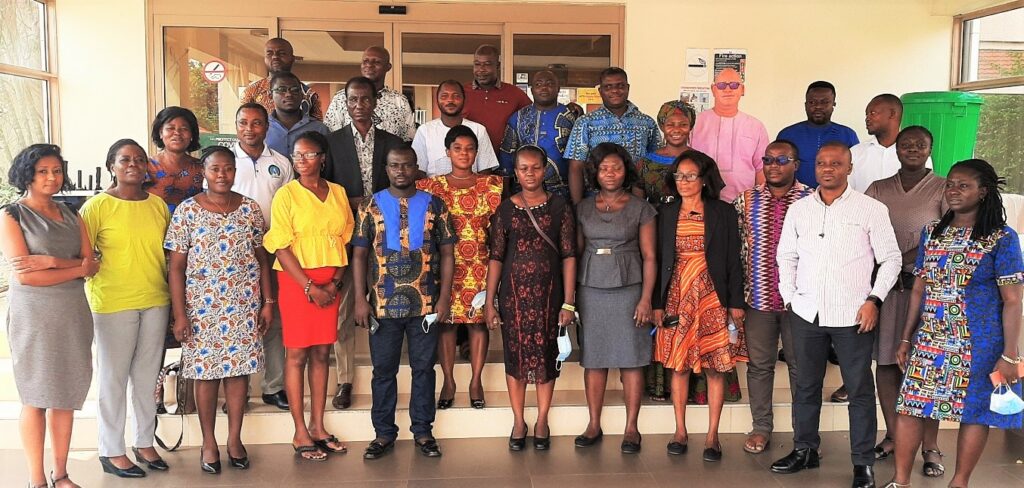 CABI, as part of its global PlantwisePlus programme, has held a training workshop in Ghana aimed at building the capacity of the country's regional agricultural officers to deliver advisory services which are mindful of the sensitivities of gender differences.
The training in Kumasi – which was led by Bethel Terefe, CABI's Gender Coordinator – included officers responsible for plant protection and regulatory services, extension services and women in agricultural development from six of Ghana's 16 administrative regions.
The training follows a study CABI conducted in August to understand how to design and deliver gender sensitive extension advisory services in Ghana and to shed light on areas where improvement to existing services can be made.
Those who attended will share their learnings with other officers and extension workers where they operate as well as in other regions in the coming months.
Gender gaps and productivity
CABI's work within the Plantwise programme in Ghana over the last five years has shown that women farmers have limited access to extension advisory services, including plant health services due to various challenges. This often contributes to a gender gap in agricultural productivity, which, if closed can help boost agriculture production and improve the welfare of rural households.
PlantwisePlus was launched in 2021 to help support low and lower-middle income countries to predict, prepare themselves for and prevent plant health threats in a changing climate reducing crop losses and empowering farmers to increase income, food security and food safety by producing more and higher quality food.
It builds upon Plantwise and Action on Invasives programmes, which have already helped millions of farmers in over 30 countries diagnose and treat pest threats and reduce crop losses by strengthening national plant health systems.
Through PlantwisePlus, CABI aims to enhance the knowledge and uptake of climate-smart plant health practices through responsive digital advisory tools. This will be achieved by equipping agricultural advisory service providers with decision making tools to provide advice to farmers in a way that ensures that both men and women farmers are able to equitably access and benefit from such services.
Concepts of gender equality
Ms Terefe guided participants through basic gender concepts, gender equality and general perceptions about gender issues in society and why understanding these issues matter in the work of rural advisory service providers.
She also taught how certain persistent social constructs on gender roles and expected behaviours affect both men and women in a way that limit their opportunities, natural abilities and potentials to contribute meaningfully to the development of society.
In order to build their capacity to overcome these limitations and to deliver gender-sensitive agricultural advisory services, the participants were also trained on how to use simple gender analysis tools. This is to ensure that the particular needs of men and women are well catered for in agricultural advisory planning and delivery.
Some of the gender tools participants were exposed to and encouraged to use in their activity planning include the Daily Activity Profile for both genders, the Agriculture Seasonal Calendar and the Gender Division of Labour.
Tailoring messages appropriately
Ms Terefe said these tools help to understand which member of the household is in charge of a given activity at a given time in the day or season. This helps the extensionist to plan their schedules and tailor messages appropriately to meet the specific needs of the different gender groups within the household. This, therefore, helps ensure that men, women and youth benefit equally from such services.
Naa Oyoe Quartey, Deputy Director of the Women in Agricultural Development (WIAD) Directorate of the Ministry of Food and Agriculture, said the training provided commendable initiative as it has equipped participants with essential knowledge and skills they need in order to make their service delivery gender-sensitive.
"I wish to commended CABI for taking the initiative to help address one of the biggest challenges we face as a country in our agricultural service delivery and development efforts. WIAD would like to call for more collaboration in the coming months to extend this training to officers and rural advisory delivery agents in the remaining regions of the country," she added.
Faustina Agyarko, one of the training participants, said, "This training has given me an in-depth appreciation of the gaps that exist between men and women in accessing agricultural information and the urgent need to address the same".
She added that with the help of the gender tools she has become aware of, she is adequately equipped to design and implement her activities in a way that addresses the special needs of vulnerable groups where she works, especially women and youth.
Additional information
Main photo: attendees of the training of trainers workshop on gender-sensitive rural advisory services held in Ghana (Credit: CABI).
About PlantwisePlus
PlantwisePlus builds on CABI's Plantwise and Action on Invasives programmes, which have already helped millions of farmers in over 30 countries diagnose and treat pest threats and reduce crop losses by strengthening national plant health systems.
PlantwisePlus is helping to reduce crop losses and empower farmers to increase incomes, food security and food safety by producing more and higher quality food.
For the first 3-years of the programme, PlantwisePlus will test new interventions in 6-7 countries in Africa, Asia and the Americas. These include enhanced digital advisory tools to boost climate resilient agriculture and greater availability of more sustainable biological plant protection products.
Find out more at www.plantwise.org
Related News & Blogs
A new study brief shares key findings on gender-inclusive agricultural extension services in Ghana by PlantwisePlus.
5 December 2023