Members of the CABI Better Cotton Initiative team gave their crop pest diagnosis and management skills a boost recently thanks to the CABI Academy. Over 100 team members completed the Crop Pest Diagnosis and Crop Pest Management courses with all participants gaining a pass certificate.
Members of CABI's Better Cotton Initiative (BCI) provide advice and information to cotton-producing farmers in Pakistan. By growing their own plant health knowledge, the Better Cotton team is ensuring they deliver the best possible diagnosis and management advice.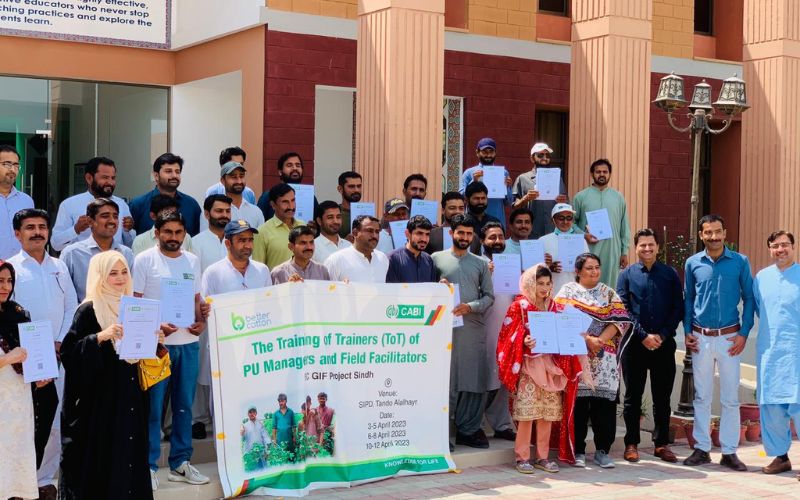 Producing better cotton in Pakistan
CABI's Better Cotton Initiative project started in 2014. The project encourages farmers to implement better cotton production principles by providing participatory advice to farms and their farm workers. So far, more than 31,000 farmers and their 76,000 workers have benefited from the team's capacity-building work. This has helped greatly reduce the application of synthetic pesticides and fertilizers.
Pakistan is the sixth largest producer of cotton in the world. Cotton is the country's main industrial sector and has played an important role in the country's economic development. As such, the crop remains a key livelihood source for more than one million farmers.
However, cotton pests and diseases can severely affect farmer yields. In addition, climate change and extreme weather events exacerbate the impact of these crop threats.
Sustainable cotton farming methods
Management of pests and diseases of cotton is often dependent on chemical pesticides. Though chemicals can be effective, long-term pesticide use may lead to pest resistance. In addition, it has negative implications for the environment and human health.
Therefore, the advice provided by the BCI team helps promote the use of sustainable farming methods. Field Facilitators can confirm causes and suggest effective, accessible and timely solutions to crop threats. Farming advice is based on Integrated Crop Management techniques, which is the basis of the CABI Academy Crop Pest Diagnosis and Management courses.
Over 100 Better Cotton team members completed the course
95 Field Facilitators and 14 Producer Unit Managers from the Better Cotton Project team took the CABI Academy Crop Pest Management and Crop Pest Diagnosis foundation courses. All participants completed the foundation-level courses and obtained CABI Academy certificates. Participants received their certificates during their training on Better Cotton. During the training, Mr Muhammad Umar, Better Cotton's Master Agronomist, praised the field team on the completion of the course.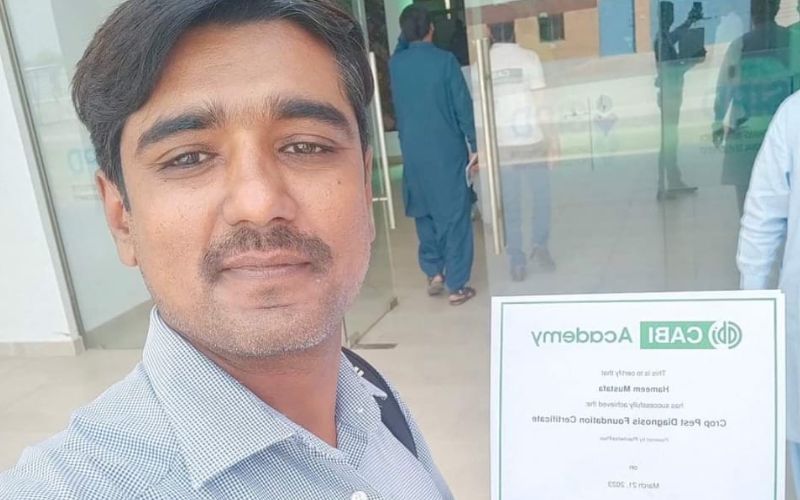 The CABI Academy provides participants with an understanding of the hands-on skills needed for field-based diagnosis of plant pests and diseases and ways to manage them. It is based on CABI's established methodology for diagnosis, used by thousands of Plant Doctors all over the world.
Course topics
The Crop Pest Diagnosis course features 15 hours of training across five modules, over 400 knowledge checks and 1,000 images for symptom recognition. The course supports field-based diagnosis and covers pathogens, pests and nutrient deficiencies.
Meanwhile, the Crop Pest Management course helps users to apply the principles of an Integrated Pest Management approach to pest and disease management to real-world scenarios. It supports them to make good, informed decisions without the use of the most hazardous chemicals. It includes key areas such as economic considerations, bacteria, oomycetes, fungi, insects and mites as well as viruses.
Mr Sikandar Ali, a Field Facilitator for the BCI Project praised the course, saying "The Crop Pest Management and Crop Pest Diagnosis Foundation Courses not only gave me the qualifications to progress in my career, but they really boosted my confidence and gave me an amazing chance to serve the poor farming community of Pakistan."
Building on CABI's expertise
CABI has a deep understanding of face-to-face training. Our on-the-ground expertise in development communications and agricultural extension has helped thousands of smallholder farmers apply tried and tested agricultural practices that improve yields.
As a digital learning platform, the CABI Academy has the potential to amplify this impact. The courses complement other traditional forms of training to deliver high-quality, more accessible, self-paced and adaptive learning than allows farmer advisor to better support farmers.
PlantwisePlus digital tools
PlantwisePlus delivers digital advisory tools that boost sustainable agriculture and improve the capacity of public and private actors who support smallholder farmers to diagnose crop health problems and recommend sustainable solutions.
The programme aims to increase access to intuitive decision support tools and to information that can enable advisors and farmers to make more informed decisions in their crop management.
Further reading
CABI News: Surviving the Pakistan floods: reducing fertilizer without compromising food security
Related News & Blogs
Last month a series of digital tools workshops occurred in Southern Jamaica. Organized by the PlantwisePlus team in collaboration with the Rural Agricultural Development Agency (RADA). These workshops aimed to showcase and promote the PlantwisePlus dig…
8 December 2023