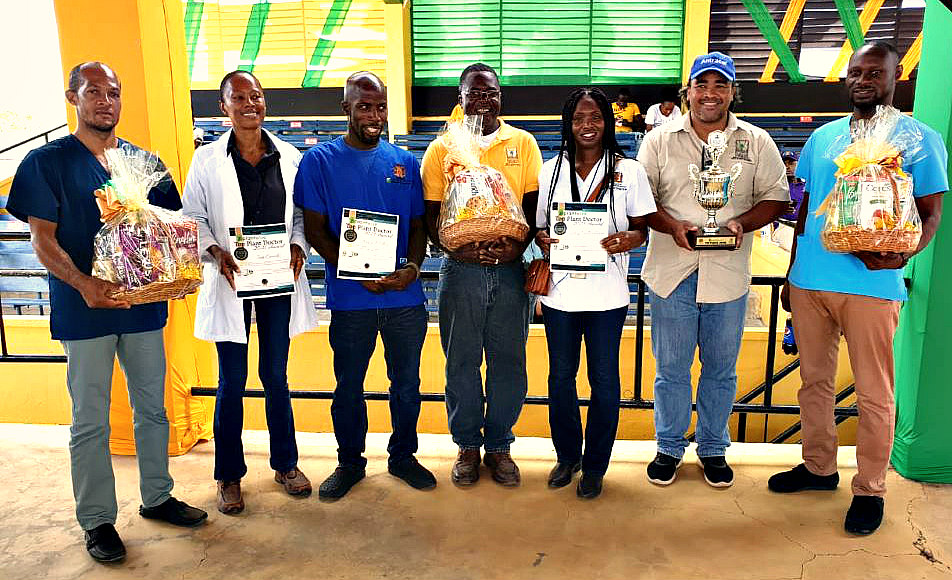 Three plant doctors in Jamaica – operating as part of the CABI-led Plantwise programme which helps farmers grow more and lose less to crop pests and diseases – have been honoured with awards established by the island's government.
Jamaica's Rural Agricultural Development Authority (RADA) recognised Rickey Bellanfante, Kevin Miller and Ian Coombs as the top performing plant doctors in their parish based upon the number of enquires they registered on the Plantwise Online Management System (POMS).
The Plantwise programme began in Jamaica in 2015 through a partnership between CABI and the Ministry of Agriculture and Fisheries (MoAF). It is being implemented by RADA who helps deliver training to the plant doctors who help smallholder farmers diagnose and remedy their plant health problems that can affect their livelihoods and food security.
POMS, as part of the Plantwise Knowledge Bank, allows plant doctors to enter, collate and analyse information collected at plant clinics which can then help authorities see what kind of plant health issues are prevalent at any one time.
The plant clinic network is another way in which Jamaica has strengthened its ability to improve its capacity to increase its food security and protect crops of economic importance. Plant doctors also develop plant health rallies to help smallholder farmers tackle prevalent crop pests and diseases.
Common crop pests and diseases affecting Jamaica include frosty pod rot (Moniliophthora roreri) of cocoa, yellowing (Candidatus Phytoplasma palmae) in coconuts, moka disease (Ralstonia solanacearum race 2) of bananas, berry borer (Hypothenemus hampei) in coffee and citrus greening (Candidatus Liberibacter asiaticus).
In 2018, the country imported more than 227 kilogrammes of plants and plant materials while receiving over 4.3 million tourists. One way in which Jamaica has been trying to curb the spread of pests and diseases is by strengthening its sanitary and phytosanitary procedures at airports which can be a gateway for invasive species entering by 'hitchhiking' on vehicles and people entering the country.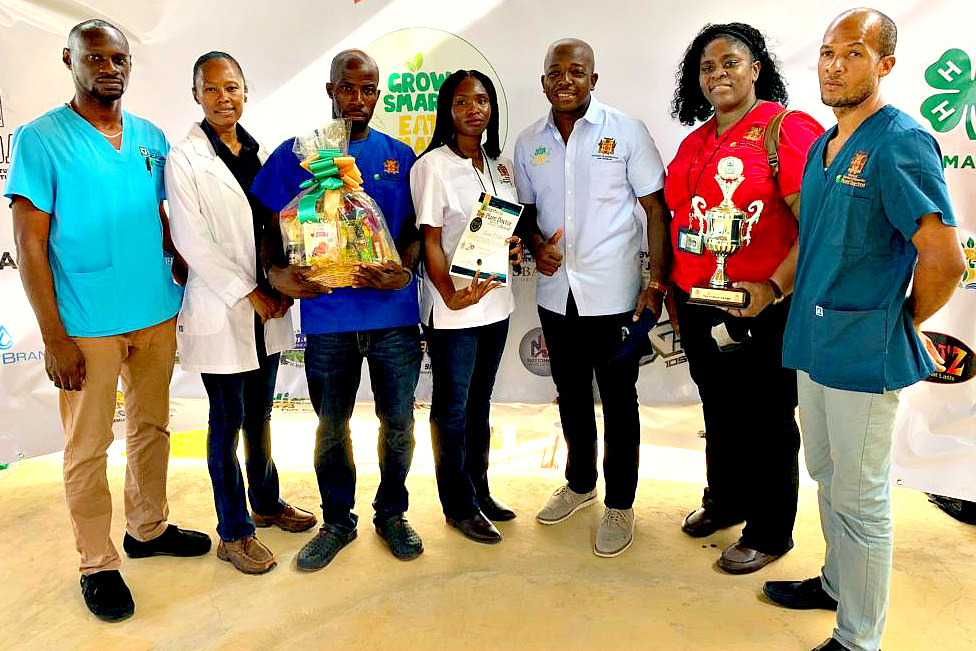 A plant health rally was held that year on beet armyworm (Spodoptera exigua Hübner) to complement other extension approaches used for transferring skills to tackle it to farmers and other stakeholders.
Dr Yelitza Colmenarez, CABI's Centre Director, Brazil, and Plantwise Regional Coordinator – Latin America and Caribbean, said, "Crop pests and diseases are a significant concern to countries such as Jamaica which relies heavily on crops of economic importance to supplement an economy which also benefits greatly from tourism.
"The Plantwise plant doctor awards not only service to recognise individual success but also a collective success in working in partnership to help strengthen all aspects of Jamaica's sanitary and phytosanitary systems.
"Together we are better at predicting the arrival and spread of invasive pests and diseases and mitigating their impact on livelihoods and food security. The plant doctor awards are just one way of recognising the power of this project in partnership."
Additional information
Main image: The Government of Jamaica has recognised the top performing plant doctors as part of the Plantwise programme which is helping smallholder farmers grow more and lose less to crop pests and diseases (Credit: CABI).
Other relevant blogs
See also the blog 'Rallying around plant health in Jamaica', 'Plant doctor training: a student's perspective' and 'Black Sigatoka Ravages Caribbean.'
Related News & Blogs
The important role plant clinics play to help smallholder farmers in Nepal grow more healthier and profitable crops free from pests and diseases has been highlighted at the 10th International Plant Protection Symposium. In 2008, the Global Plant Clinic…
20 November 2023