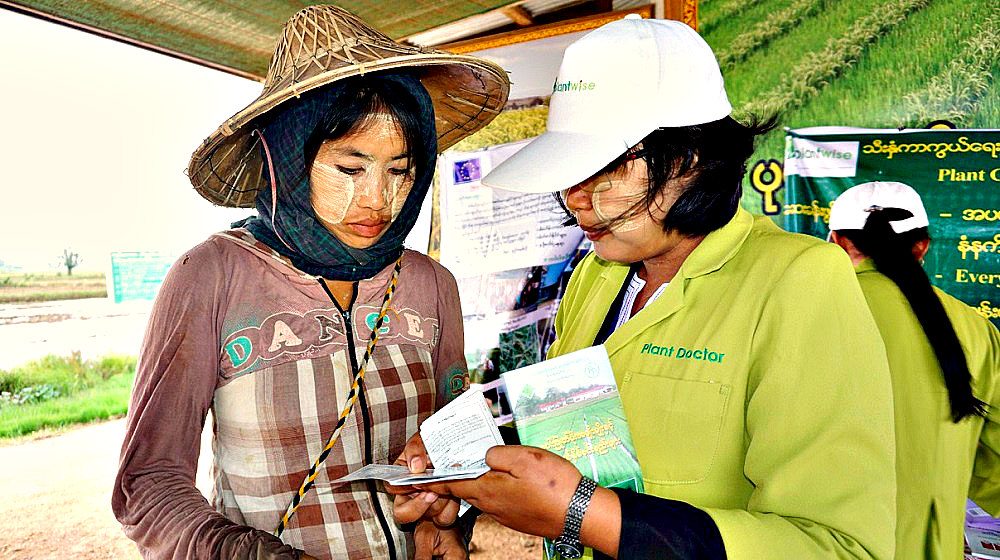 A 'Plantwise approach' to sustainable agriculture in South East Asia has been promoted at the 4th ASEAN Socio-Cultural Community (ASCC) Research and Development Forum.
Dr Feng Zhang, CABI's Regional Director, East & South-East Asia, gave a presentation which promoted nature-based solutions (NbS) for sustainable agriculture at the event held recently.
This was based upon improved advisory services through a 'Plantwise approach' and advocacy for more safer-to-use and environmentally friendly biological control products to fight crop pests and diseases.
Plantwise is a global CABI-led programme – now enhanced and superseded by PlantwisePlus – which helps countries predict, prevent and prepare themselves for plant health threats, thereby reducing crop losses and improving livelihoods.
Nature positive products
PlantwisePlus is seeking to accelerate the availability of nature-positive and low-risk plant protection products to reduce reliance on high-risk farm inputs. With this in mind, Dr Zhang took the opportunity to promote the CABI BioProtection Portal which is a free tool to discover natural, registered biocontrol and biopesticides around the world.
The new PlantwisePlus programme will also create and transform employment to support economic development and contribute to consumer demand for safer, higher quality and locally produced food to drive the uptake of safer production practices.
The ASCC Research and Development Forum, which was held via video conferencing, was convened on the theme 'Strengthening climate resilience with private sector engagement and nature-based solutions' and saw Dr Zhang participate as part of Session 2: 'Aligning priorities with nature-based solutions and opportunities.'
Plant clinic network
Dr Zhang highlighted how the 'Plantwise approach' replicates the concept of a human health clinic with a network of plant clinics where plant doctors provide diagnostic service and management advice to farmers to help them treat their plant health issues.
The plant doctors are also able to consult the Plantwise Knowledge Bank which is a gateway to practical online and offline plant health information, including diagnostic resources, best-practice pest management advice and plant clinic data analysis for targeted crop protection.
In Cambodia there are 162 plant clinics and 333 plant doctors, in Myanmar, 107 plant clinics and 189 plant doctors, Thailand, 29 plant clinics and 801 plant doctors and Vietnam 25 plant clinics and 130 plant doctors.
Significant contribution
Dr Zhang said, "The Plantwise approach is making a significant contribution to regenerative agriculture – strengthening detection and response to invasive pest outbreaks through coordinated mechanisms and nature-based solutions.
"It is also scaling regenerative agricultural solutions among smallholder farmers through the delivery of digital advisory tools, training of public and private actors, and development of content suited to different channels and audiences.
"The promotion of nature-based solutions for rural communities can also help reduce the risks that pesticides pose to human health and impacts on biodiversity."
Integrated Pest Management
Dr Zhang also highlighted other activities CABI is engaged with in the region. These include working with the Food and Agriculture Organization (FAO) of the United Nations in Bangkok to develop a comprehensive programme on nature-based solutions for eco-friendly crop protection and 'One Health.'
The aim is to support countries in the region to unlock the potential of nature-based solutions and integrated pest management to address the problems posed by synthetic pesticides and other drivers of global change, including climate change.
CABI is also working with the United States Department of Agriculture (USDA) and other global partners to execute well-coordinated pesticide Maximum Residue Level (MRL) capacity building programme in the Asia region.
This is particularly in respect of design and implement interventions to improve MRL registration, pesticide communication, import MRLs, and alignment of international standards to remove trade barriers.
Additional information
Main photo: A farmer receives advice from a plant doctor in Myanmar (Credit: CABI).
About PlantwisePlus
PlantwisePlus is a global programme, led by CABI, to increase incomes and grow safer and higher quality food through sustainable approaches to crop production.
Working in close partnership with relevant actors, PlantwisePlus strengthens national plant health systems from within, enabling countries to provide farmers with the knowledge they need to lose less and feed more.
CABI gratefully acknowledges the financial support of the Australian Centre for International Agricultural Research (ACIAR), Directorate General for International Cooperation (DGIS, Netherlands), the UK Foreign, Commonwealth & Development Office (FCDO), the Swiss Agency for Development and Cooperation (SDC), for the PlantwisePlus programme.
For more information visit: https://www.plantwise.org
Facebook: https://www.facebook.com/Plantwise
Twitter: https://twitter.com/CABI_Plantwise (@CABI_Plantwise)
Related News & Blogs
Many smallholder farmers around the world rely on good agricultural extension services to successfully grow their crops. Correct field diagnoses of plant health problems are an essential starting point, writes Dr Stefan Toepfer and Wayne Coles. However…
19 September 2023