CABI's simulation app Pest Diagnostic Simulator allows users to test their plant pest and disease investigation and diagnosis skills through multiple scenarios, reinforcing investigation and diagnosis skills through engaging gameplay and real-time feedback.
Simulation-based learning has been used for decades in various industries such as aviation, healthcare, and the military, and is now being applied in agriculture to build professional skills. This type of learning not only teaches the basic concepts, but also provides users with opportunities to apply new skills, knowledge, and ideas in a practical and controlled setting that mirrors real-world scenarios.
The Pest Diagnostic Simulator is a simulation app learning game. Launched by CABI in 2019, it aims to build the user's ability to carry out symptom-based plant health diagnosis. The game uses highly realistic graphics that allow users to examine and interact with plants in a virtual 3D environment and link symptoms to their biotic causes. This learning game complements CABI's Crop Pest Diagnosis e-learning course.
Players gain confidence in their skills through regular feedback and scoring throughout the simulation as well as competition with their peers. The game provides examples of pests and diseases affecting five different crops. The game can be found on Google PlayStore and is available in 4 languages: French, Spanish, Swahili and Chinese.
How to access the simulation app?
Access to the full game (twenty-one scenarios/levels) is available to registered plant doctors in the Plantwiseplus programme as well as to those that register using the email domains specified in the app description. Registered users can access 21 different scenarios while anonymous users are limited to the first 7 scenarios.

If you are registered and signed in, your progress is saved with your login details. Your progress in the game is not lost even if you sign in on another device.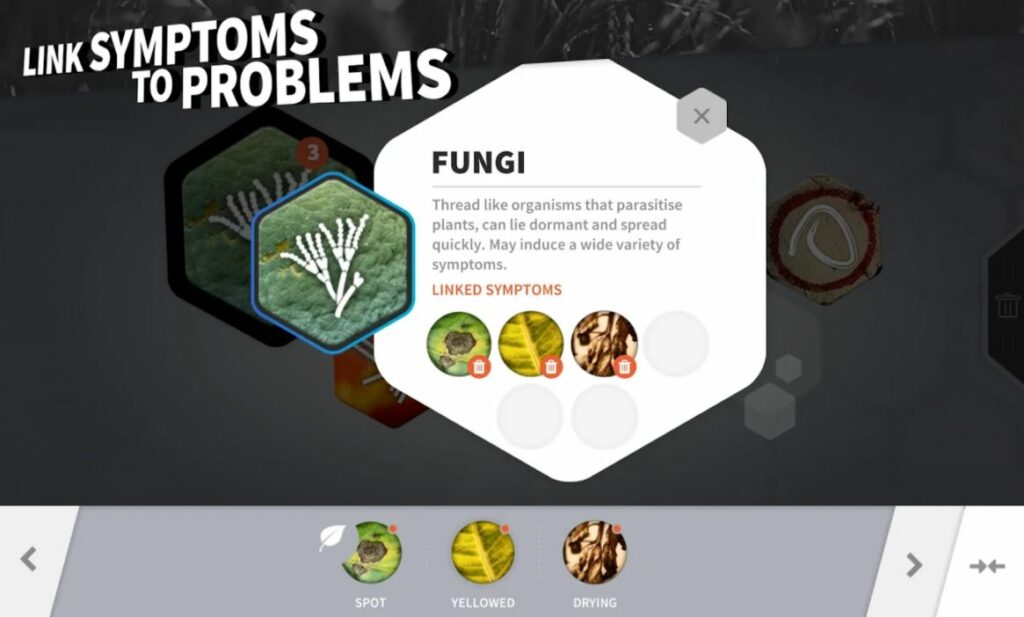 What to expect from the simulation app?
The app supports and reinforces investigation and diagnosis skills through engaging gameplay and real-time feedback. This learning game improves accuracy and quality in observing plant symptoms, inspection and deductive reasoning skills and enhances knowledge, confidence and competence in diagnosing pest and disease problems. The app uses unique 3D simulated scenarios to train plant health professionals in diagnosing common plant health problems.
Users' score and feedback in the game
Your actions and decisions are recorded and scored. You will receive performance feedback on inspection and diagnosis scores. A competence ranking will be given at the end of each scenario level. Once a competence ranking is gained, more level scenarios are unlocked.

If you are signed in, your progress is stored online and scores are ranked on a competitive leaderboard globally and nationally.
Download the simulation app Pest Diagnostic Simulator
About PlantwisePlus
PlantwisePlus is a global programme, led by CABI, to increase incomes and grow safer and higher quality food through sustainable approaches to crop production.
Working in close partnership with relevant actors, PlantwisePlus strengthens national plant health systems from within, enabling countries to provide farmers with the knowledge they need to lose less and feed more.
CABI gratefully acknowledges the financial support of the Directorate General for International Cooperation (DGIS, Netherlands), the European Commission Directorate General for International Partnerships (INTPA, EU), the UK Foreign, Commonwealth & Development Office (FCDO), the Swiss Agency for Development and Cooperation (SDC), for the PlantwisePlus programme.
For more information visit: https://www.plantwise.org
Facebook: https://www.facebook.com/Plantwise
Twitter: https://twitter.com/CABI_Plantwise (@CABI_Plantwise)
Further reading
Related News & Blogs
Last month a series of digital tools workshops occurred in Southern Jamaica. Organized by the PlantwisePlus team in collaboration with the Rural Agricultural Development Agency (RADA). These workshops aimed to showcase and promote the PlantwisePlus dig…
8 December 2023