An initiative to combat the destructive papaya mealybug in Kenya is reaping rewards. A natural predator – a parasitic wasp – has been introduced to coastal counties to help control the pest. This tiny wasp is helping to prevent the damage caused by the mealybug. It's not only helping to save papaya farms. It's safeguarding smallholder livelihoods, too.
Papaya mealybug – a real pest
Papaya mealybug (Paracoccus marginatus) is a serious pest of papaya fruit. This sap-sucking insect originates from Central America. In the 1990s, it spread to the Caribbean and South America. It was first detected in Africa in 2010. And by 2016, it had been found in Ghana as well as Mombasa County in Kenya.
CABI researchers have now discovered the mealybug in more than half of Kenya. A study by Kansiime et al., 2020 reported that the pest causes crop losses of 53-100%. And it's responsible for economic losses of £2,224 per hectare every year. It's even led some smallholders to abandon papaya farming altogether.
But a tiny wasp could be turning the tide on the mealybug invasion. Acerophagus papayae is a parasitic wasp that feeds off papaya mealybugs. And while it doesn't kill all mealybugs completely, it does help to control their numbers to below the economic threshold.
Tiny wasp thwarts papaya mealybug
Through PlantwisePlus, CABI has worked with partners to release this wasp in three counties in Kenya. The project has revealed some extremely promising results. Within a year of its release from July 2022 to July 2023, the wasp established itself at the release sites in Kilifi, Kwale and Mombasa. This means its numbers are growing and the hope is that it will successfully control the papaya pest along Kenya's coastline. Here are some of the steps taken to achieve these results.
PlantwisePlus – rearing wasps to control papaya mealybug
In 2021, CABI held a meeting with stakeholders from Kenya's county and national governments. The aim of the meeting was to find solutions to controlling papaya mealybug. The meeting was held with partners, Kenya Agricultural and Livestock Research Organization (KALRO), Kenya Plant Health Inspectorate Service (KEPHIS), and National Museums of Kenya. Farmers from the three target counties also attended. A natural solution – the release of a natural enemy to control the pest – was high on the agenda. Attendees made plans to release the wasp along Kenya's coastline. This is a region most impacted by the mealybug.
In 2022, CABI together with KALRO and KEPHIS, trained extension officers in pest control. The goal was to protect native insect biodiversity threatened by pesticide use. For the wasp release to work, pesticide use would need to be controlled. Pesticides kill pests, but they kill beneficial insects, too. Extension officers paved the way for creating the right release environment.
The project team selected six sites for the wasps' release. These were six farms that weren't using insecticides. Again, this would ensure a natural pest control environment. Each farm also had more than 100 trees of the right spacing for the release to work.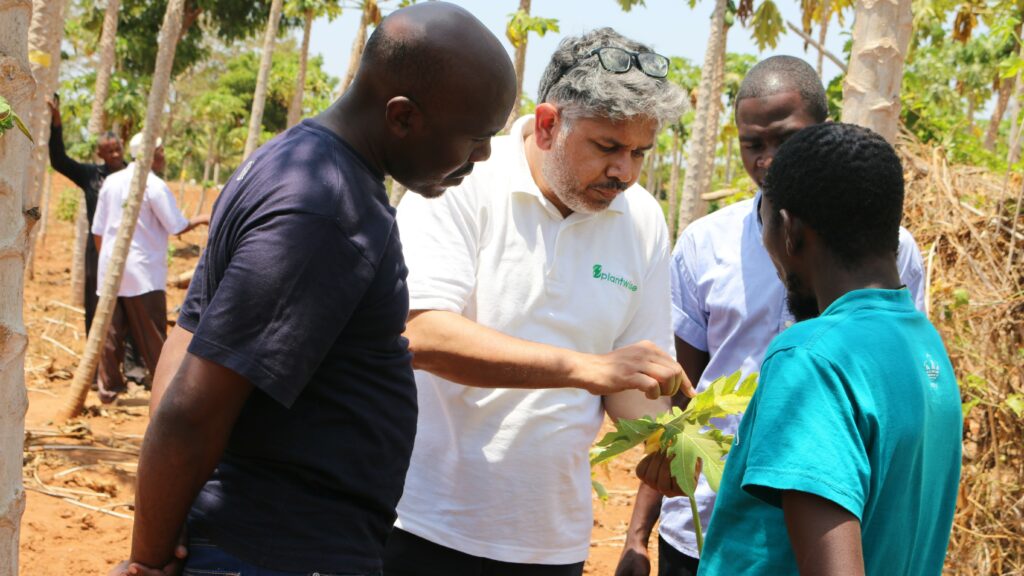 In 2022, the team reared wasps in special facilities. The training helped to dramatically increase the rearing of the wasps. Their numbers grew from 500 in January 2022 to 3,210 in March. Training boosted the numbers to 13,295 by April. Abdul Rehman, a CABI expert in mass rearing the wasps based in Pakistan, trained technical personnel in Kenya, which is also a good example of south-south cooperation. By May, the wasps' numbers had been scaled up to 18,185.
Release the wasps!
From December 2021, the team collected the wasps in jars ready for release. They tied the jars onto the papaya trees using rubber bands. The kept the jars facing downwards to avoid rainwater collecting inside. Additionally, the treated trees were labelled with ribbons for easy identification and monitoring.
The wasps established themselves at all six sites. They were found on release and non-release trees. Their establishment happened quickly. For example, at a site in Kwale, the release took place on 2 February. By 31 March, the wasps had increased in number by almost 10%. At a site in Mombasa, within the space of three months, the wasps had increased in number by over 50%. In some farm sites the number of papaya mealybug counts reduced from 430 to 2 mealybugs after 4 months of release.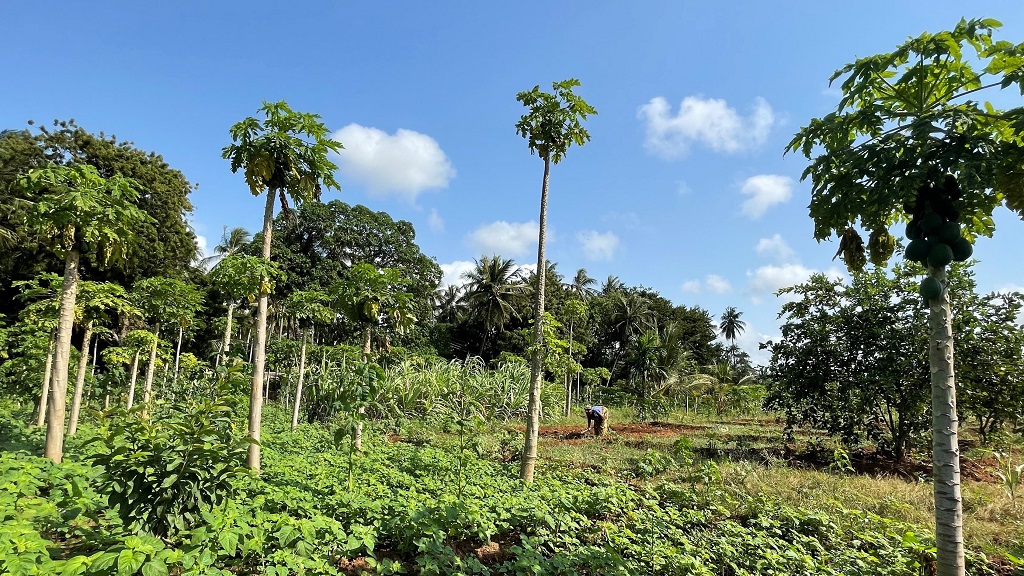 The wasp was also found on papaya trees that did not have parasitoids released on them. This demonstrates the spread of the wasp taking place. The outcome from this study provides strong evidence of the exceptional efficiency of the wasp. It shows how it can manage the papaya mealybug population in coastal Kenya.
Pesticide reduction helps to conserve beneficial enemies
Farmers also played an important role in the project. For the wasp to successfully establish, farmers learned how to reduce pesticide use. This helped to conserve the wasps. Furthermore, the general diversity of natural enemies of papaya mealybug increased. This includes other bug predators of pests as well as beneficial ants and spiders.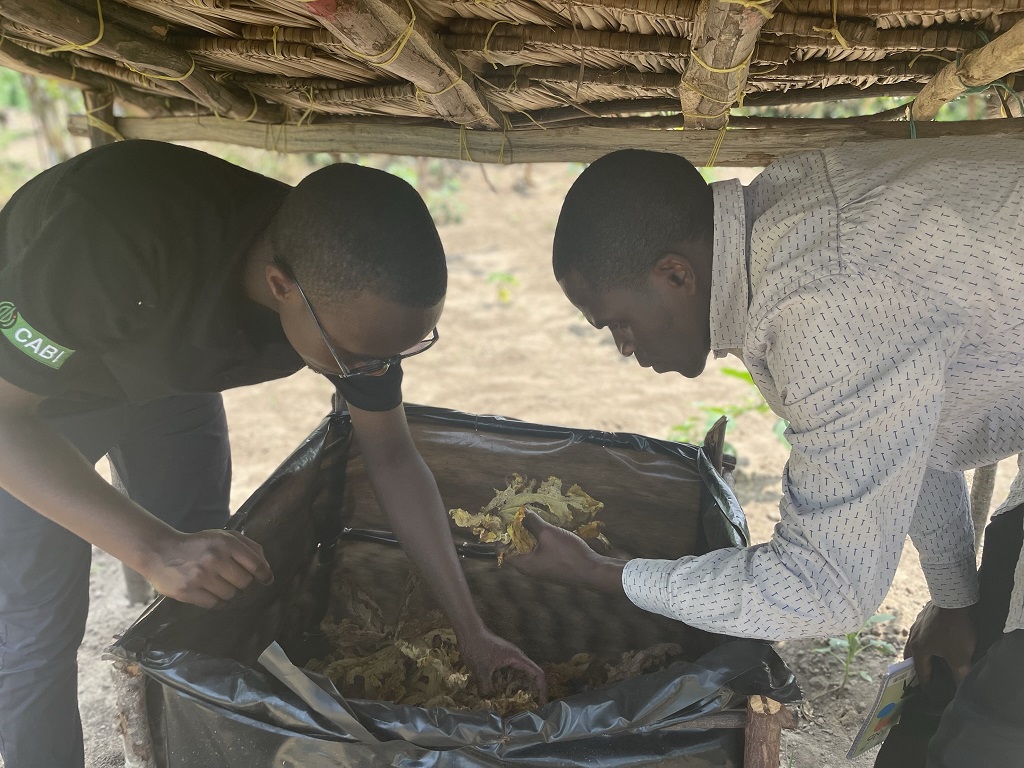 CABI has also trained farmers to establish Natural Enemies Field Reservoirs (NEFRs). The reservoirs are storage boxes where beneficial pest predators can be reared. The project is doing this so that farmers can rear their own wasps on-site. This will help to conserve the parasitoids in communities when the project ends.
Learn more
Fight against papaya mealybug in Kenya stepped up with agent release in four more counties
Mass rearing training strengthens papaya mealybug biocontrol programme in Kenya
Low hanging fruits? Papaya mealybug in Kenya and search for a biological solution
---
PlantwisePlus is financially supported by the Directorate-General for International Cooperation (DGIS), Netherlands; European Commission Directorate General for International Partnerships (INTPA, EU); the Foreign, Commonwealth & Development Office (FCDO), United Kingdom; the Swiss Agency for Development and Cooperation (SDC); the Australian Centre for International Agricultural Research (ACIAR); the Ministry of Agriculture of the People's Republic of China (MARA)
All images are ©CABI
Related News & Blogs
A new study brief shares key findings on gender-inclusive agricultural extension services in Ghana by PlantwisePlus.
5 December 2023