A new study has unlocked the hidden ways in which important cash crops such as cowpea (Vigna unguiculata) tackle localised pest invasion and damage using natural defence mechanisms. Insights such as these are key for the future protection of our global agricultural production in the light of increasing pest outbreaks and crop damage.
Scientists have published research in which they have found an immune receptor in cowpea cells that can detect the saliva of caterpillars feeding on their leaves, causing a series of natural defence responses such as the release of chemicals that limit the rapid growth capabilities of the larvae. An example of such a defence mechanism is found when the bean pod borer (Maruca vitrata) larvae feed on cowpea, causing the release of a pheromone which attracts parasites to then feed on the larvae.
"Despite chemical controls, crop yield losses to pests and diseases generally range from 20 to 30 percent worldwide. Yet many varieties are naturally resistant or immune to specific pests," explains biologist Adam Steinbrenner from the University of Washington. "Our findings are the first to identify an immune recognition mechanism that sounds the alarm against chewing insects."
As of yet, very little is known about how plants are able to identify and combat pest threats, however this new study which is built on previous research by the same team has found that certain peptides known as inceptins are found in the saliva of the larval pests such as the beet armyworm (Spodoptera exigua) larvae – which is one of greatest threats to cowpea crops across Asia and North America. The beet armyworm is native to Southeast Asia and has colonised parts of America since the late 1800s. This pest is extremely damaging to crop foliage, with larvae being found to consume more than other major crop pests such as the diamondback moth (Plutella xylostella).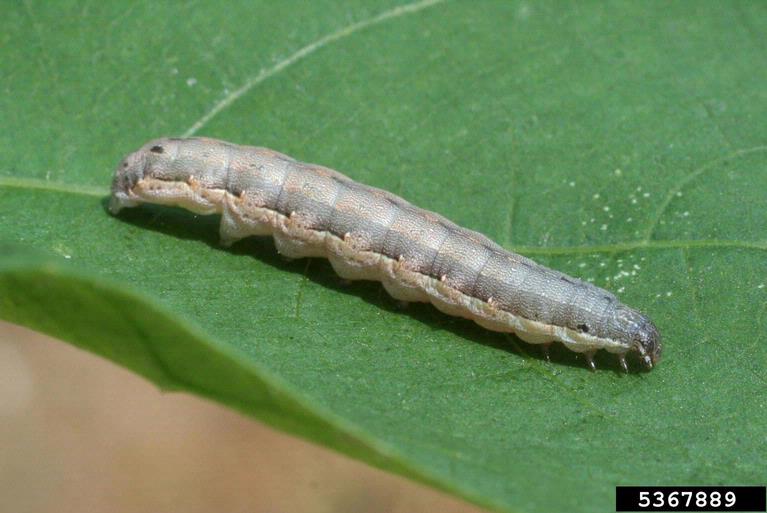 The inceptins are the spark that causes the cowpea defence mechanisms against feeding pests, ultimately resulting in larval damage or death. The research found inceptin receptors (INRs) on cowpea plant calls specifically. Unfortunately, there are limited ways to study cowpea crops, resulting in the team having to use tobacco plants to test how the INRs work in practice.
By inserting the gene for INR production into tobacco crops, the team were able to test what would happen in the presence of armyworm larvae. It was found that the INRs were triggered in response to the presence of certain protein fragments in the saliva of feeding caterpillars, as well as in response to direct feeding damage on leaves. The fragments of saliva protein that caused the defence response was found to be pieces of cowpea proteins that were broken down by the caterpillar during feeding. In the tobacco test crops, the presence of these proteins triggered the release of a plant hormone that is known to occur when under threat, resulting in the suppression of insect growth.
"Like many plant immune receptors, this receptor is encoded only by certain plant species but can be transferred across families to confer new signalling and defence functions," the author wrote.
With the genomic techniques used in this study, the team were able to discover hidden information about plants natural defence mechanisms against pest damage. With the increasing global demand for food as well as more prevalent agricultural pest outbreaks, such studies must be conducted on numerous important food crops and a variety of environmental climates so we can better prepare for and mitigate future threats.
If you would like to read more on this subject, please see the links below:
Related News & Blogs
Armyworms are the larvae of Spodoptera moths. There are over 30 different species of Spodoptera, which are found all over the world. Although structurally the same, there are differences between species in colour, host plants and geographical distribut…
28 April 2022