In Ethiopia, smallholder farmers are the mainstay of the economy, with the country's large rural communities dependent on small-scale farming for food security and income. However, farmers face several challenges when trying to improve crop yields, in particular plant pests and diseases. It is estimated that Ethiopian farmers lose up to 50% of all crops to pests. Reducing crop losses, increasing agricultural productivity and improving livelihoods requires access to timely and relevant information from effective agricultural extension services.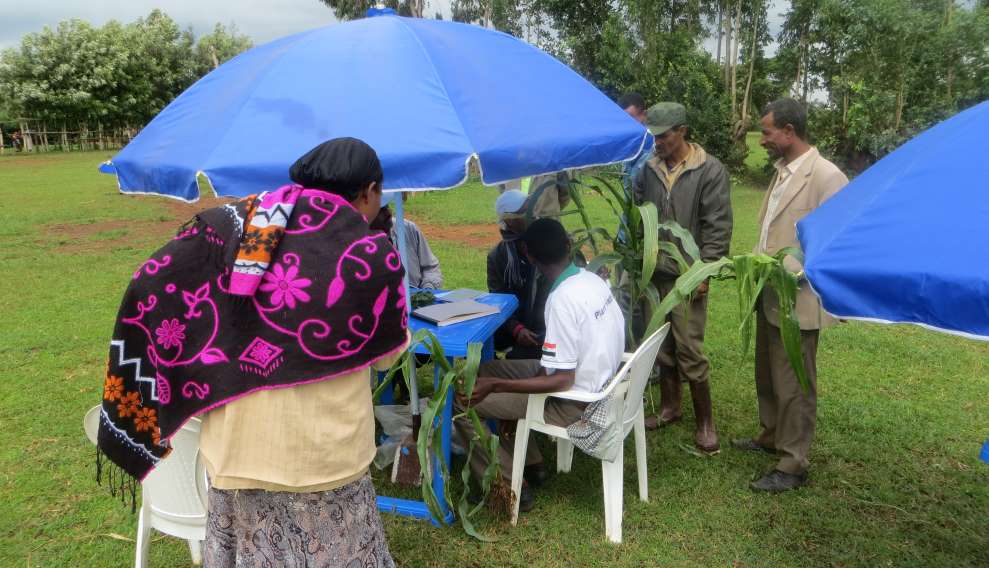 Plantwise Plant Clinics in Ethiopia
In Ethiopia, community-based plant clinics run on a weekly or fortnightly basis. They deliver information on key crop problems and advice given is guided by integrated pest management (IPM) principles, which focus on safe, economic and practical recommendations.
Plant clinic participants are more likely to follow good agricultural practices and indicative findings showed a significant increase in the production of the three crops. These increases could be largely attributed to the improved use of fertilizer and pest management practices through IPM approaches such as better seed varieties and nonchemical pest management options.
Pesticide use
A study conducted in 2016 revealed a significant increase in use of chemical pesticides in Ethiopia over the last decade, showing that the attitudes, knowledge and practices of farmers and farm workers regarding safe use of pesticides are poor. The new study shows that plant clinics have a positive impact on pesticide use. Farmers that visited plant clinics showed a better understanding of the proper use of pesticides. They also reported a reduction in the total use of pesticides annually, and said they spent less on them.
Greater PPE use in Ethiopia
The study also examined the use of PPE, which is generally quite low in Ethiopia, and found that plant clinics have a beneficial effect on its use. Overall, 37% of the respondent farmers reported using some sort of PPE. Just 11% said they used PPE before visiting plant clinics. Boots were the primary protection worn, with fewer farmers wearing overalls, masks or gloves. Although improvements in PPE use are still needed, this can be seen as a step in the right direction.
Adverse health effects
The study found there has also been progress in the way farmers dispose of empty pesticide containers. Previously the dumping of containers or the re-use for holding household consumable items were common practices among farmers. This can cause a number of health issues for farmers and the community at large, with acute pesticide poisoning being a particular problem.
50% of farmers said that before ever visiting a clinic they would have cleaned and reused pesticide containers as storage for consumables. After participating in a clinic, just 13% of farmers said they would reused containers. Such changes should lead to a reduction in adverse health effects of chemical pesticides for farmers, their families and communities.
Through Plantwise, CABI endeavours to promote sustainable plant health. Plant doctors are trained within the Plantwise programme to offer sustainable plant health management advice to farmers following the principles of Integrated Pest Management (IPM). Where the use of pesticides is unavoidable, plant doctors are advised to recommend only locally-registered and less hazardous pesticides. More importantly, the intervention helped farmers to consider pesticides as a last resort.
Related stories
CABI gratefully acknowledges the financial support of the UK Department for International Development (DFID), the Swiss Agency for Development and Cooperation (SDC), the Directorate General for International Cooperation (DGIS, Netherlands), the International Fund for Agricultural Development (IFAD), the Australian Centre for International Agricultural Research (ACIAR), and the Ministry of Agriculture of the People's Republic of China for the Plantwise programme.
Related News & Blogs
Many smallholder farmers around the world rely on good agricultural extension services to successfully grow their crops. Correct field diagnoses of plant health problems are an essential starting point, writes Dr Stefan Toepfer and Wayne Coles. However…
19 September 2023