A six-day Plantwise plant doctor training session took place in Rwanda this March. Funded by CABI, the training aimed to build the capacity of Rwanda Inspectorate, Competition and Consumer Protection Authority (RICA) staff in the diagnosis of crop pest problems, and providing advice to farmers.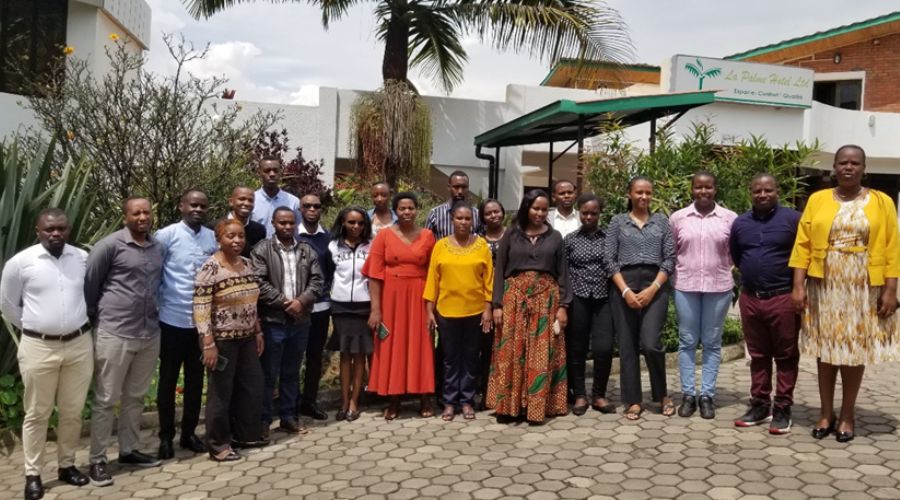 Plant doctor training session
National trainers from the Rwanda Agriculture and Animal Resources Development Board (RAB) carried out the session, which covered Plant Doctors' Training Modules 1 and 2. The 16 participants all deal with plant health in their day-to-day work as inspectors. The course allowed them to grow their knowledge of field diagnosis and management advice.
The Plant Doctor Module 1 covers on-field diagnosis and plant clinic operations. Module 2 outlines good management advice for farmers. As such, these modules strengthen the current skills and knowledge of farmer advisors in the field.
Students taking the plant doctor modules can also build capacity through training on writing and delivering extension messages. These include pest management decision guides and plant health rallies. In addition, students also benefit from training on the use of data, quality assurance and gender.
Whilst the training focuses on the general principles there is also specific training when invasive species are concerned such as diagnosis and management of invasive pests such as the fall armyworm.
Plantwise programme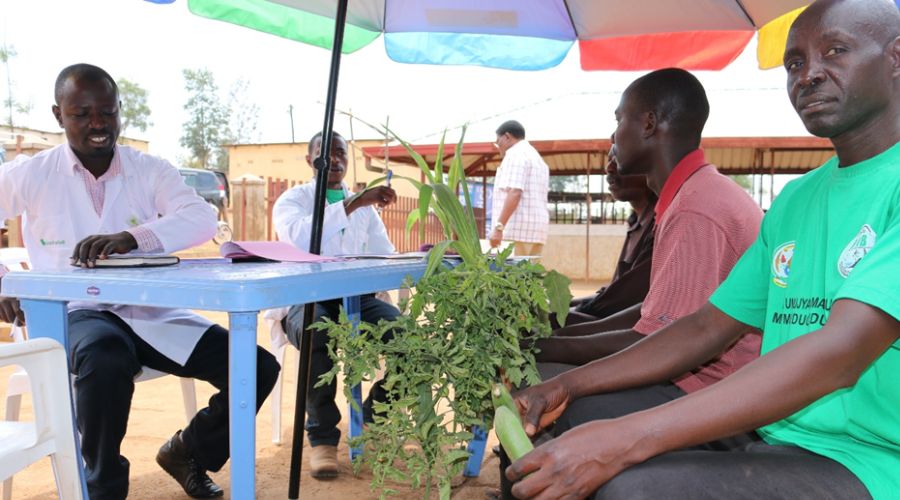 Since its launch in 2011, Plantwise has been increasing food security and improving rural livelihoods by reducing crop losses. What is more, the Plantwise programme has shown that accurate diagnosis of plant health problems leads to improved pest management advice and, subsequently, improved pest management on a farm. In turn, this leads to better crop production, boosting rural livelihoods and reducing risks to farmers, consumers and the environment.
RICA director of farm products and processes inspection unit, Mr. Niragire Ildephonse, who coordinates SPS activities and is also a trained plant doctor, attended the closing ceremony. Mr. Ildephonse handed out pass certificates to the 16 participants, who all attained the required pass mark in both modules. CABI's Idah Mugambi congratulated them on this achievement and welcomed them into the large network of plant doctors across the globe.
In his closing statement, Mr. Ildephonse acknowledged CABI's support. He stated that with the increased capacity from the training, the new plant doctors (who are inspectors) were now equipped to deliver their roles even more effectively. In addition, he was impressed by the fact that the training was delivered by local trainers as this was a sign of the enhanced in-country capacity.
Further information
Plant Doctor Training Modules 1 and 2 are now available as part of the CABI Academy Crop Pest Diagnosis and Crop Pest Management courses. These courses are open access in 29 PlantwisePlus countries.
About PlantwisePlus
PlantwisePlus is a global programme, led by CABI. It aims to enable countries to increase incomes and grow safer and higher-quality food through sustainable approaches to crop production.
Working in close partnership with relevant actors, PlantwisePlus strengthens national plant health systems from within. This enables countries to provide farmers with the knowledge they need to lose less and feed more.
CABI gratefully acknowledges the financial support of the Directorate General for International Cooperation (DGIS, Netherlands), the European Commission Directorate General for International Partnerships (INTPA,EU), the UK Foreign, Commonwealth & Development Office (FCDO), the Swiss Agency for Development and Cooperation (SDC), for the PlantwisePlus programme.
For more information visit: www.plantwise.org
Related News & Blogs
A new study brief shares key findings on gender-inclusive agricultural extension services in Ghana by PlantwisePlus.
5 December 2023