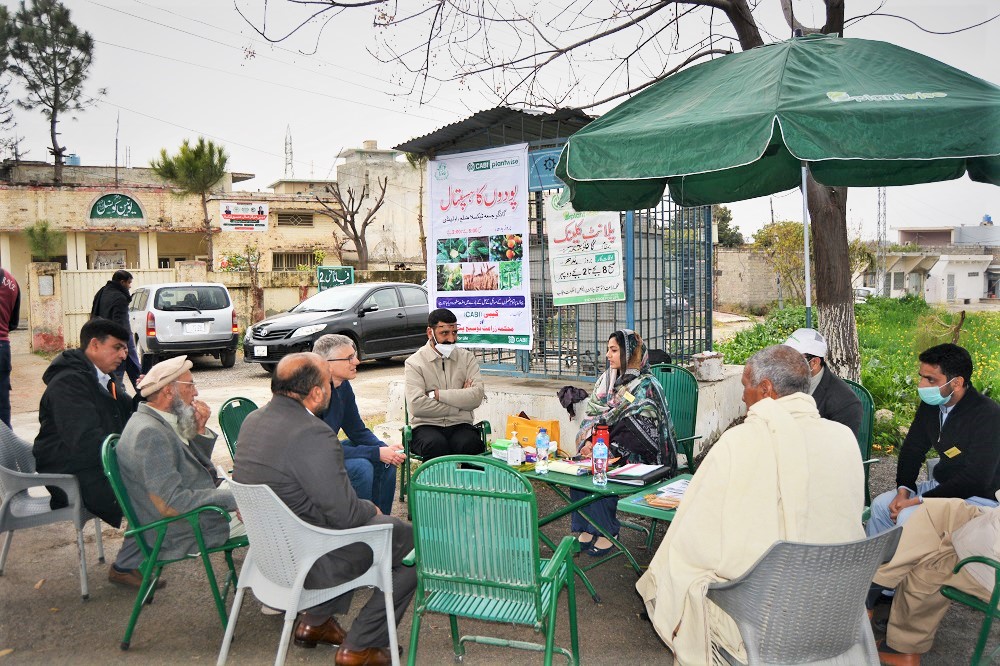 The crops of smallholder farmers in Pakistan face numerous risks and health problems. Often, a lack of knowledge on the farmers' part on how to diagnose crop pests and diseases results in losses of between 30-40% of their key crops. This not only affects productivity and, therefore, food security but also livelihoods.
Technical support services are often weak and extension providers struggle to reach all farmers. The Plantwise plant health clinics initiative of CABI in Pakistan is supporting sustainable networks of a complete package of advisory services and data management for crop health problems in the country.
Dr Daniel Elger, CABI's CEO, during his visit to the CABI in Pakistan centre based in Rawalpindi, stopped by a plant clinic in Gangu Juma village, Texila. He was joined by Dr Babar E. Bajwa, CABI's Senior Regional Director, Asia, Dr Muhammad Naeem Aslam, CABI Country Coordinator Plantwise Pakistan, and Mr Abdul Rehman, Deputy Director Programmes, CABI.
Running the plant clinic
The purpose of visiting to the plant clinic was to observe its operations and meet with plant doctors and clients of the clinics. Miss Maryam Maqsood, a plant doctor, briefed Dr Elger about the operations and her experience of running the plant clinic. She said that the clinics are providing face-to-face crop pest diagnosis and management advice to visiting farmers. Similarly, she endorsed that data obtained from farmers about their crop issues could potentially help and improve the quality and productivity of crops for other farmers.
Data collection and compilation are key activities of the plant clinics which is reinforced by the Plantwise Knowledge Bank. This is a gateway to practical online and offline plant health information – including diagnostic resources, best-practice pest management advice and plant clinic data analysis for targeted crop protection.
Importance of data
Miss Maqsood also demonstrated how data is obtained, as part of the process of helping farmers diagnose their crop health problem and recommendations given for managing the issue, and recorded on the Plantwise Online Management System (POMS).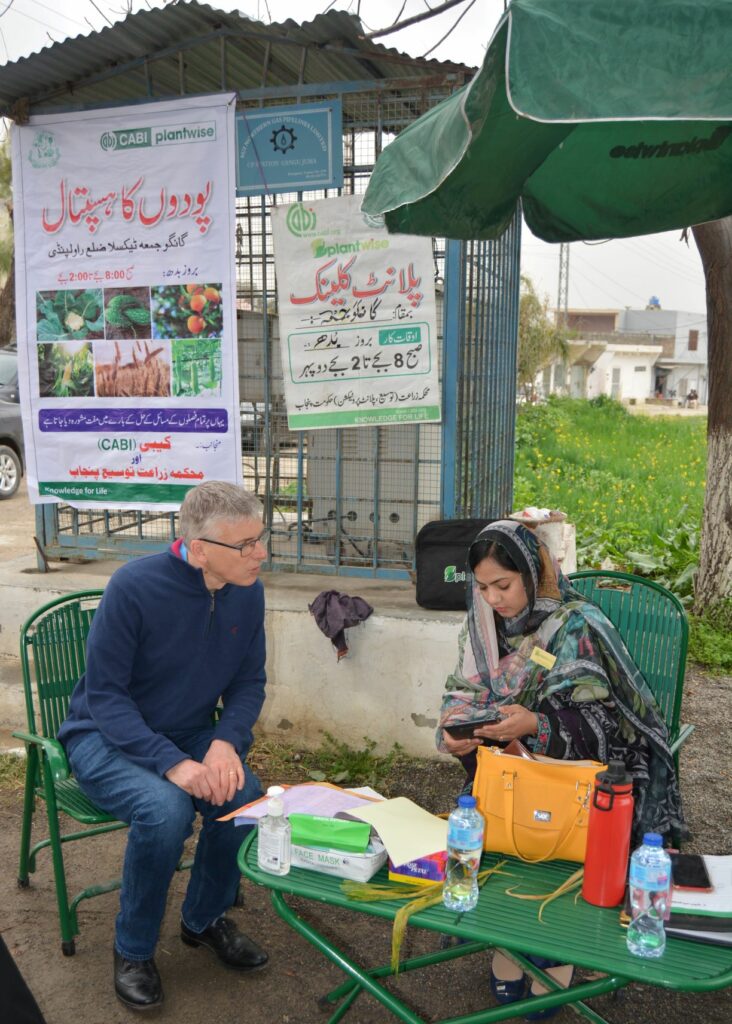 She also presented the record and data compilation system for digital (E-Clinics) advisory service both from the extension worker and farmer's perspective. She impressed and recognised how that through this programme the skills and competencies of extension staff have been greatly improved and now they now feel confident in providing necessary advocacy to the farmers.
Every Wednesday, the plant clinic run in Texila is held and farmers regularly visit. She also explained to Dr Elger that farmers are also sent SMS messages through the E-Clinic that gives advice on how their crop problem – which may be due to disease, insect attack or nutritional issues – may solved.
Dr Elger asked the plant doctor regarding major issues reported by farmers at the plant clinics and what remedies are proposed for mitigation of these issues. She specifically highlighted the issues on major crops, especially wheat rust and leaf minor, and also presented him the factsheets and Pest Management Decision Guides developed under the programme. Miss Maqsood also briefed how helpful these are in providing good recommendations.
Dr Elger also observed the samples farmers brought to the clinics and also interviewed a few clients that visited the clinic. Dr Elger asked the clients about how useful these clinics are in getting a solution to their problems. During the informal discussion, farmers said that they are satisfied and showed confidence on the advise they are getting from clinics. Dr Elger also asked Miss Maqsood about the overall approach of the plant clinics.'
Best surveillance
The best surveillance system for plant health problems is when the farmer walks through their crop every day and is the first to notice anything new. However, the support of the plant clinics is vital in helping them diagnose the complex plant health problems – especially the diseases of crops which are difficult for farmers to identify.
Dr Muhammad Naeem Aslam pointed out that the systematic recording of queries and advice also helps to monitor plant health problems and the relative importance of different issues, including new pests and diseases.
Dr Bajwa highlighted to Dr Elger that a national consortium of partners is supporting the sustainability of the clinics in the country. He also updated him on the fact that data collected from the plant clinics is aggregated in a national data centre established for managing the clinics record throughout the country in a central place. Lastly, after clinic's activity the delegation also visited farmers' field near to the clinic.
Additional information
Main image: Dr Daniel Elger, CABI CEO, (fourth from right) visits a Plantwise plant clinic in Gangu Juma village, Pakistan (Credit: CABI).
Blog authors:
Dr Muhammad Naeem Aslam and Yasar Saleem Khan
Related News & Blogs
Many smallholder farmers around the world rely on good agricultural extension services to successfully grow their crops. Correct field diagnoses of plant health problems are an essential starting point, writes Dr Stefan Toepfer and Wayne Coles. However…
19 September 2023