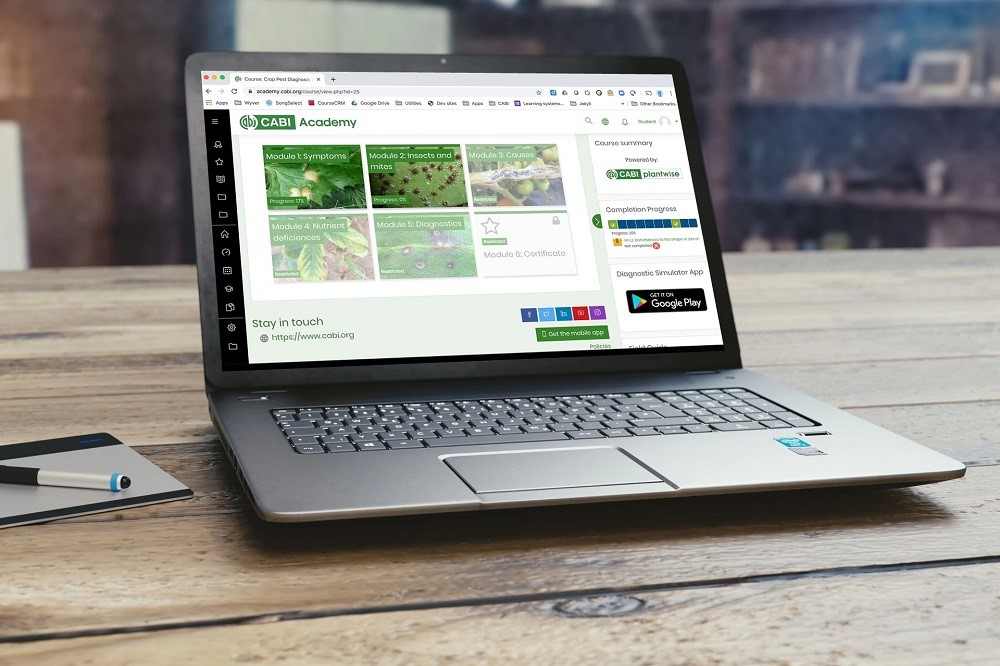 Pests and diseases are among greatest challenges to food security. Around 40% of crops worldwide are lost to pests – putting the livelihoods of millions of smallholder farmers and global food security at risk. CABI is helping to mitigate these challenges through strengthening expertise of agricultural workforce in plant health and Integrated Pest Management (IPM) promoting knowledge on sustainable management strategies.
After the launch of Crop Pest Diagnosis Course last year, CABI has added the Crop Pest Management online course to the CABI Academy website. It is designed to support extension workers and plant doctors directly, as well as students and trainers in agricultural education institutions and others engaged in the agricultural sector.
For a limited period of 3 months, we are offering this as a free course. It will be available from 1st October through to 31st December 2021. You will be able to access all the materials and assessments. However, if you wish to obtain the completion certificate, you will need to pay £18 GBP. This can be paid using any valid payment card.
Registrants can benefit from this online course by using their browser, or using the Android or iOS Moodle App.
The Crop Pest Management course features 15 hours of training across 8 modules, including knowledge checks and visualizations to help you understand a range of approaches to pest management. The course is based on the IPM methodology, and complements the Crop Pest Diagnosis course, which is also available through the CABI Academy.
How to get your access and download the certificate
To start enjoying free access to the Crop Pest Management course, follow these simple steps:
Register for an account on https://academy.cabi.org if you do not have one already.
If you are registering for a new account, you will receive an email containing a link to verify your email address. Please check your spam folder if this does not arrive.
If you have forgotten your username or password, you can retrieve them here: https://academy.cabi.org/login/forgot_password.php
Once you have your account setup, go to the Crop Pest Management v1.1 – Autumn 2021 course at https://academy.cabi.org/course/view.php?id=142
You will need to do the pre-course assessment and questionnaire in Module 0 before you access all the other modules
When you have completed the course, you will be given a link to the Assessment and Certificate
7. You will need to pay £18 GBP (by credit or debit card) to access the Assessment and Certificate
Start working through the course. For any queries during taking the course use the "Help" button on bottom right hand corner.
For more information about the CABI Academy courses, please visit the CABI Academy.
Related News & Blogs
Pesticide overuse and misuse pose a risk to farmers, consumers, and the environment. Chemical pest control is a major source of pollution, leading to water and soil contamination. Moreover, pesticides can enter the food chain through residues on crops,…
24 May 2023