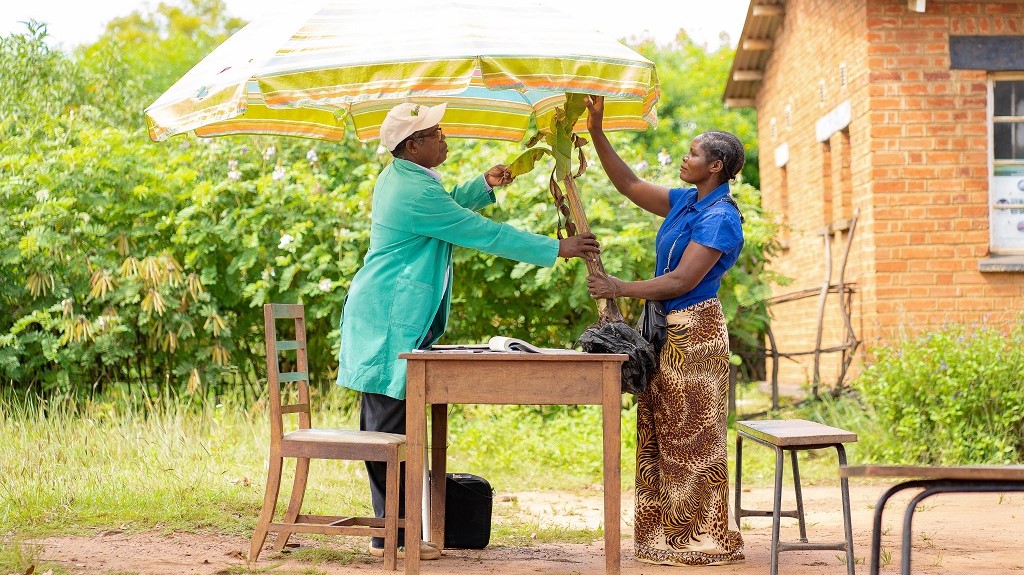 Mayi Joyce Vito is a middle-aged woman with a one-acre farm in Nanjiri, Lilongwe, Malawi. She grows groundnuts, maize and occasionally, cassava. She also has a piece of dambo land where she grows vegetables and has a number of banana trees.
Nanjiri is one of the areas in Lilongwe which is regarded as a 'food basket' for the city. Market days are held every other three days, where vendors and traders come to markets within the area to buy all sorts of produce to supply shops and consumers in the city. As a farmer, she takes pride in the income she gets when she sells her produce. She is able to provide for her family as well as her personal needs.
One of the greatest challenges facing farmers within her area has been pests and diseases. The major plant diseases in the area are: cassava mosaic virus in cassava, late and early blight in tomato, groundnut rosette in groundnuts, and banana bunchy top in bananas. Fall armyworm is also a major insect pest of maize in the area.
Mayi Joyce is a regular attendant at the Nanjiri Plant Clinic. Two growing seasons ago, she experienced a bumper yield from her groundnut crop after struggling with groundnut rosette for a long time. The Plant Doctor had advised her to practice crop rotation in order to reduce the incidence of rosette in his field. He also gave a number of other recommendations that would help her to salvage her groundnut crop. Since then, she has been very committed to dealing with pests and diseases in her field.
Due to the help she and her fellow farmers are receiving from the Plant Clinic, they have taken it upon themselves to encourage other farmers within the vicinity to attend too, although access to the plant clinic has been a major challenge for some farmers. Farmers who stay nearby where the Plant clinic is set up were able to attend more frequently as compared to those living farther away.
In order to solve this problem, occasionally, especially during rainy season, the Plant Doctor personally visits farmers who request for him to see their fields and provide advice. In addition, when farmers attend plant clinics, they are given both a written diagnosis as well as an SMS-based diagnosis and treatment advice.
"I have more understanding of the underlying cause of plant health problems; and I feel they have helped me to better manage my field and increase my crop yields. I will continue to attend plant clinics so that I can continue to support my family through farming" says Mayi Joyce.
The Nanjiri Plant Clinic is attended by approximately 80 farmers within the area. The clinic is held fortnightly at the main market place; within the week, the Plant Doctor also visits farmers fields especially during the rainy season so provide more assistance to the community.
---
Plantwise launched in Malawi in 2013. Find out more about activities there.
Related News & Blogs
"At first, I don't think he wanted us in farming. He more wanted a nurse, or a flight attendant, or something like that." Justine is a young farmer in Jamaica who initially faced resistance from her father. She and her siblings are now preparing to tak…
19 September 2023