The Plantwise Knowledge Bank (PWKB) is a free online resource that gathers plant health information from across the world. Over 15,000 pieces of content, which include, pest management decision guide's (PMDG), factsheets for farmers (PFFF), species pages, photo sheets, manuals and video factsheets in over 100 languages.
Country resources
Within the PWKB are a range of valuable country-specific resources. These resources can be accessed via the country resources page on the Plantwise Knowledge Bank. Resources available include dynamic location-specific information such as crop variety lists, guidelines, diagnostic field guides, pesticide red lists and country-specific plant health websites. It also now contains links to country-specific factsheets. These resources allow users to get a range of information that refers specifically to their chosen country.
Six categories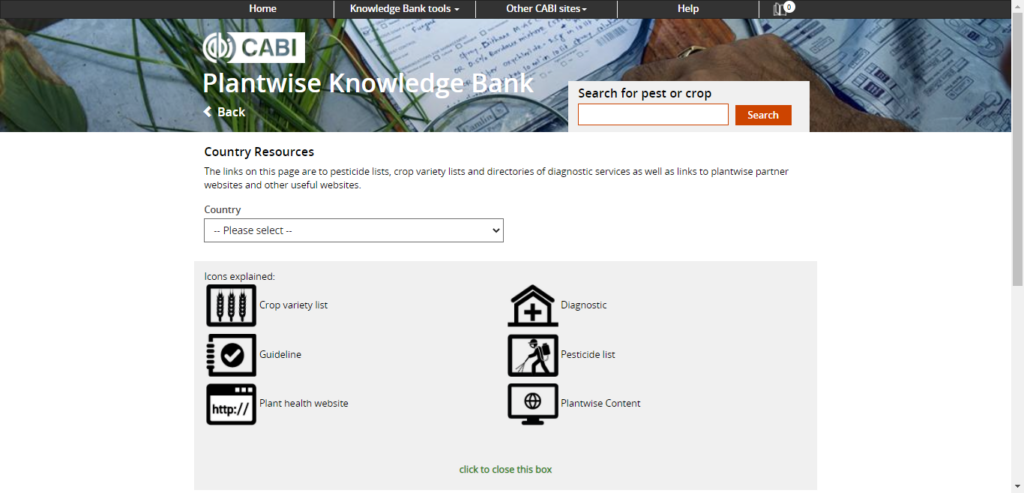 The content available on the Country Resources page is split into six categories:
Crop variety list – List of national crop varieties ideal for planting
Diagnostic – Diagnostic and Advisory services available
Guidelines – Documents providing helpful agricultural information
Pesticides list – Prohibited pesticides in selected country (Red List)
Plant health website – Plantwise partner website
Plantwise Content – Plantwise content available on the PWKB
Once users have selected the country from the drop-down, the country-specific resources become available including the new Plantwise Content.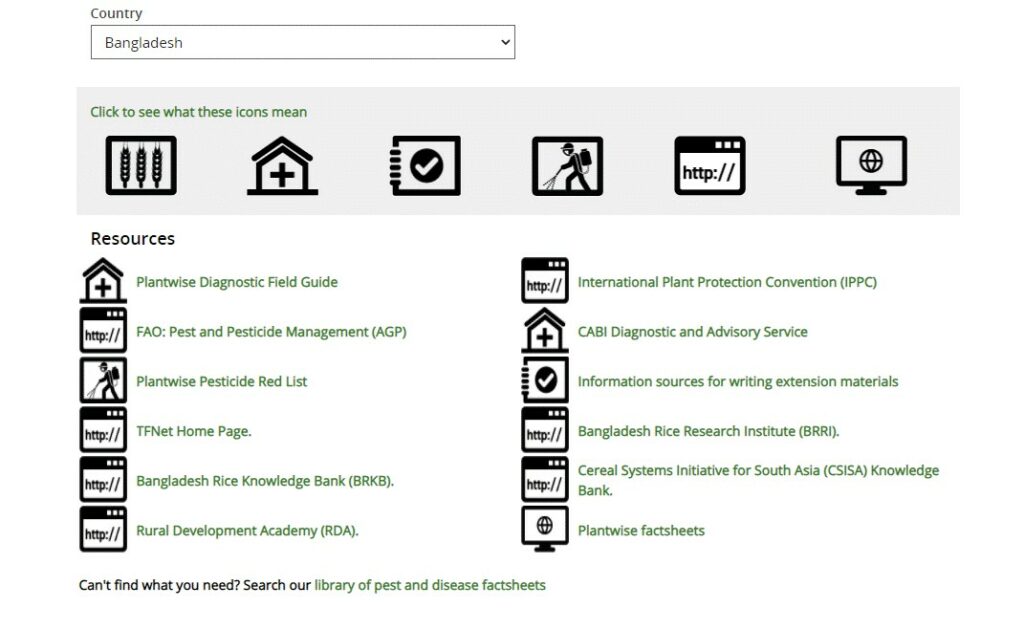 Country resources content icons
The new Plantwise content icon is displayed alongside the available Plantwise factsheets in the PWKB. All resources with this icon are Plantwise content from the PWKB content library, so will be relevant to pest and disease management in some way. Other resources include the Bangladesh Rice Knowledge Bank (BRKB), an example of a Plantwise partner website.
Search all PWKB content
Users have the option to search all available material in the PWKB content library. The link to the content library, which features over 15,000 items can be found beneath the country-specific search results.
Users enter the common or scientific name of the crop or pest into the search field on the landing page Results can be filtered by country, region, category or language. Additional search support can be found here, along with details on how to use the Boolean operators.
Supporting plant health systems
The Plantwise Knowledge Bank resources are invaluable for all actors in the plant health system, linking them to the information they need for timely action against crop pests and diseases. It supports the Plantwise goal: lose less, feed more by collecting, analyzing and disseminating pest data in order to enable:
– Identification and management of plant pests
– Protection against pest and disease threats
– Secure storage and analysis of national plant pest data
You can access the Plantwise Knowledge Bank here: https://www.plantwise.org/KnowledgeBank
Further reading
Related News & Blogs
Many smallholder farmers around the world rely on good agricultural extension services to successfully grow their crops. Correct field diagnoses of plant health problems are an essential starting point, writes Dr Stefan Toepfer and Wayne Coles. However…
19 September 2023