The Plantwise Knowledge Bank brings together plant health information from across the world. It includes a diagnostic tool, factsheet library, pesticide lists and pest alerts. For those seeking to diagnose a pest problem, the Plantwise Knowledge Bank's Pest Diagnostic Tool is particularly useful, providing information to help identify the symptoms observed on a crop.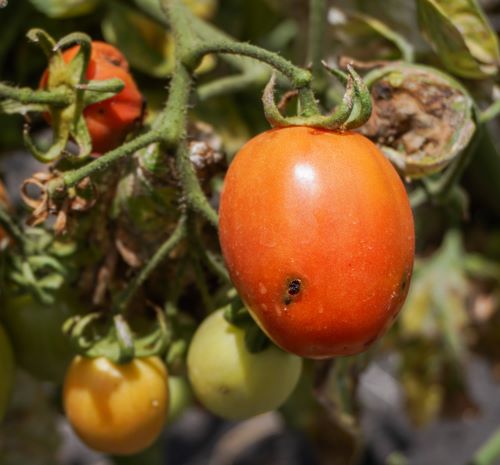 Diagnosing a pest problem
To be able to provide effective solutions to a plant health problem, it's first important to diagnose a pest problem accurately. The diagnostic tool allows you to diagnose a crop problem through the symptoms observed and the part of the plant affected.
From the Plantwise Knowledge Bank home page, navigate to the diagnose a pest problem tile and click 'identify a pest'.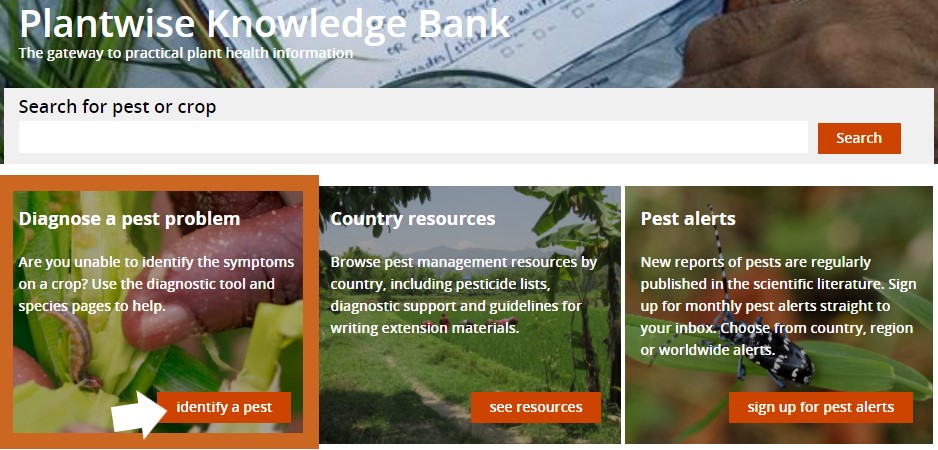 Identify the pest problem
Once clicking on 'identify a pest', you are able to search by country or region from the drop-down list. The crop name is then typed into the search box and a list of suggested crops will appear to choose from.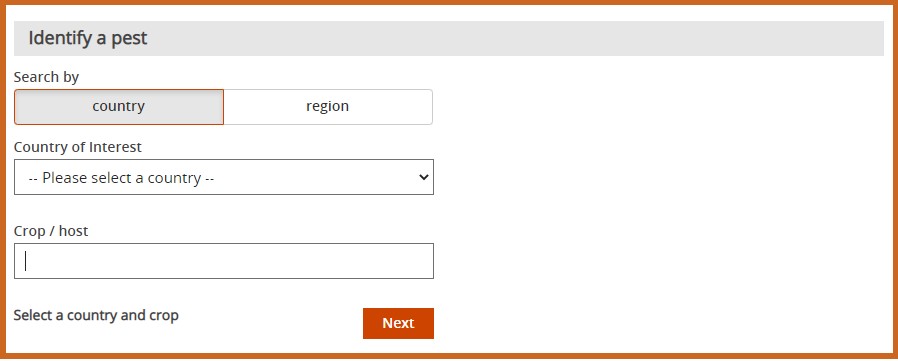 Narrow down cause
The first step in narrowing down the cause of a plant health problem is to determine which part of the plant is affected by the pest. In some cases, several parts of the plant can be damaged, but to help diagnose the problem, the main part of the affected plant needs to be determined. The options provided in the tool include leaves, stems, whole plant, seeds, fruit, growing point, inflorescence, roots and vegetative organs.
If the type of problem is already known it will help to narrow down your search further, otherwise a user would select 'unsure'. The types of problems in the tool include mites, insects, fungi, nematodes and weeds.
The steps in the diagnostic tool mirror the plant clinic prescription form found on the data collection app.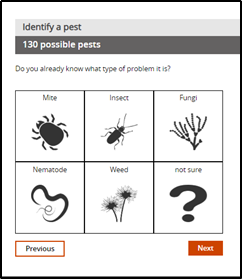 Pest and disease results
Results from the diagnostic search are given as a list of possible pests or diseases, each with an image, and a link to a technical factsheet further describing the problem. The technical factsheet provides information on crop symptoms, preventative methods and effective solutions to the problem.
For further information on the pest or disease problem; the search tool on the Plantwise knowledge bank has over 15,000 pieces of content available for free.
Further reading
Contact us via email to share links to factsheets or any queries: plantwise@cabi.org
---
Visit the The Plantwise Knowledge Bank
Related News & Blogs
This month's pest alerts include information about five new introduced terrestrial slugs in Hungary. Photograph by RodrigoQuarteu. We've selected a few of the latest new geographic, host and species records for plant pests and diseases from CAB Abstrac…
11 September 2023