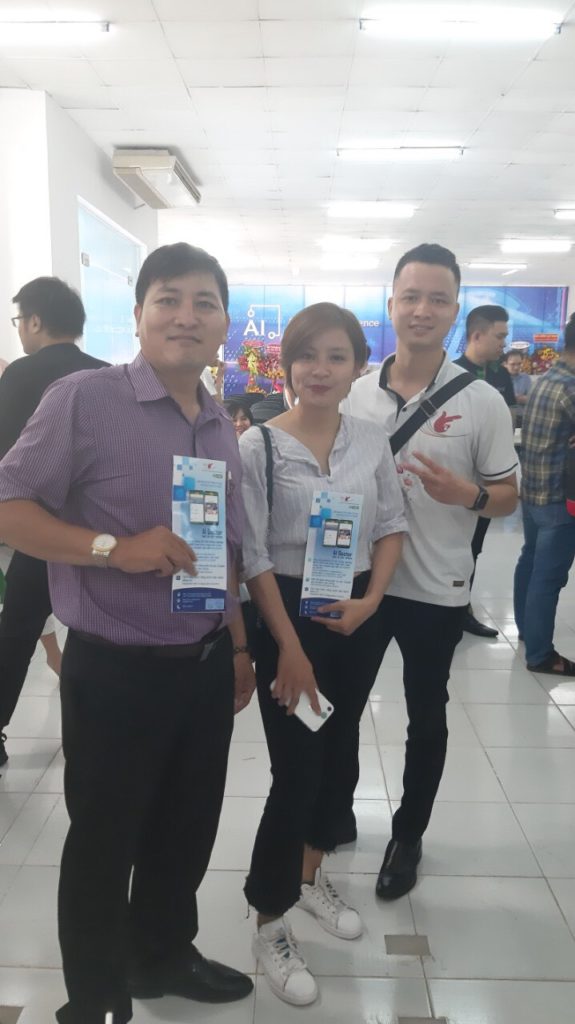 The application of a Plant Doctor using artificial intelligence – known as the AI Plant Doctor – by BOM Software in collaboration with CABI was introduced to delegates at the exhibition of the launching ceremony of the AI Innovation Hub Incubation Center on October 3rd in Ho Chi Minh City, Vietnam. The event was organized by Ho Chi Minh City High-Tech Park (SHTP.)
Artificial Intelligence (AI) is considered one of the core technologies of the industrial revolution 4.0, and is an inevitable development trend in countries around the world. AI can have a great impact on all aspects of social life and is applied in many fields such as education, healthcare, manufacturing, and more.
In the context of development and international integration, Vietnam is determined to focus on developing AI technology, which is forecast to become the most breakthrough technology industry in the next 10 years.
Foreseeing this issue, BOM Software and CABI in 2019 under the Plantwise programme have been implementing a pilot project on the application of AI technology in agriculture: the treatment pests and diseases on dragon fruit trees, with the support of Vietnamese experts from Center for Vietnam Science and Technology Internationalization Promotion (VISTIP) and Southern Horticultural Research Institute (SOFRI).
The project has already released application software (AI Plant Doctor) which can be installed on computers and smartphones – both Android and IOS.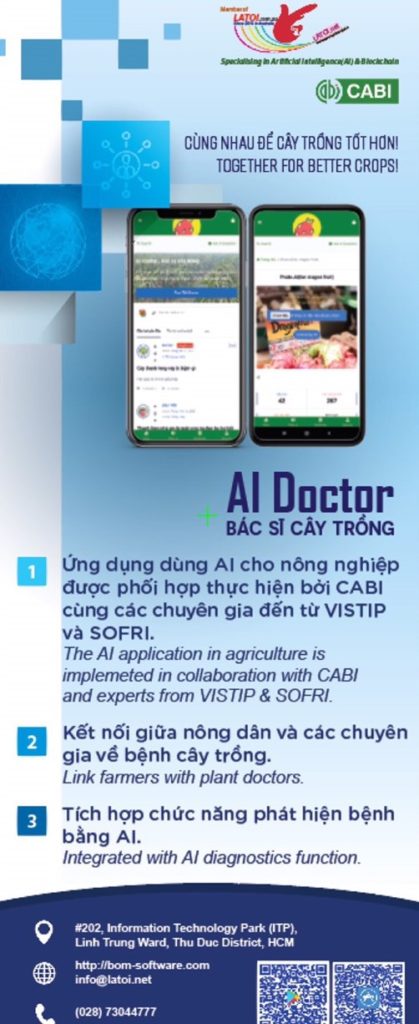 Accepting the invitation of the Organizing Committee, BOM Software sent representatives to attend the event and introduced the AI Plant Doctor App to the event's guests. More than 100 brochures introducing the app were distributed to the delegates, mostly from private sector companies, IT start-ups, students, lecturers and researchers from universities and other institutions in Ho Chi Minh City. This is an Alpha version of the app, through the introduction to the delegates attending this event.
As well as introducing the public to the applications of AI in real life, the developers also look forward to feedback from users to improve the app. In the near future, the AI Plant Doctor will be fully functional to meet the requirements of users not only farmers, crop experts and plant doctors but also consumers, regulators, enterprises because the field of agricultural production and food safety are hot topics for Vietnamese.
Both CABI and BOM Software expect that the application is going to effectively serve a wide and diversified range of users. In future we will cover advisory services for more crops.
Related News & Blogs
CABI's Digital Advisory Tool team, Digital Development (Image credit: CABI) PlantwisePlus Digital Tools: The PlantwisePlus programme is working to increase access to digital decision support tools and information. These can support farmers and extensio…
28 July 2023