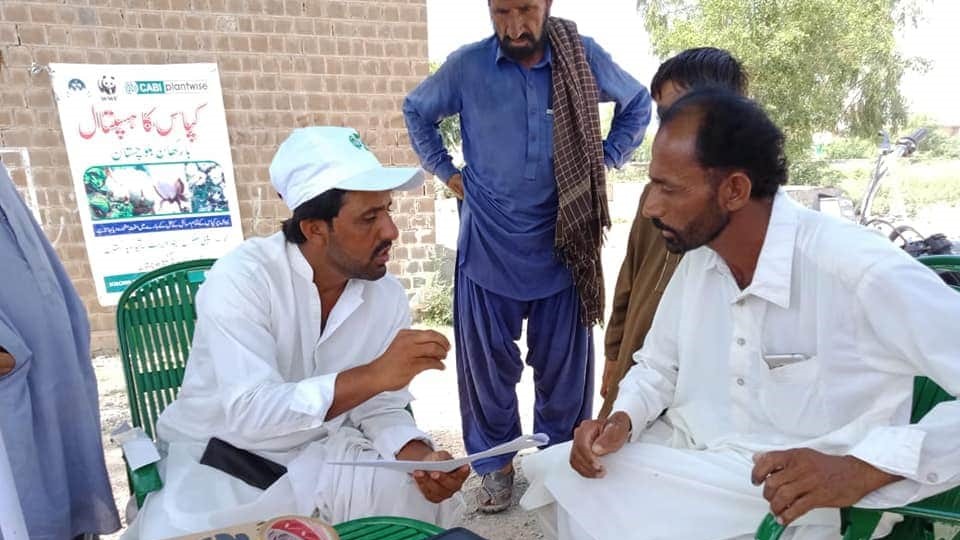 Pakistan is among the top five largest cotton producing countries in the world. Although Punjab and Sindh have remained major cotton producing provinces since 1947, a sharp increase in global demand for organic cotton is offering a great opportunity to Pakistan in general, and Balochistan in particular is set to get maximum benefit due to its vast land area and least contamination from chemical pesticides.
CABI is implementing the Cotton Advocacy for Policy and Seed (CAPAS) Project with the financial support of Laudes Foundation to help the organic cotton farmers in the Barkhan and Lasbella districts of Balochistan.
The majority of cotton farmers have small land holdings and limited financial resources. CABI has trained officials from the Directorate of Agriculture Extension, Balochistan and field staff from WWF-Pakistan as Plantwise plant doctors to provide technical guidance to cotton farmers in identification, diagnosis and recommendation of biological inputs for controlling diseases, pests, and insects.
Up to 40% of major crop production losses occur due to weeds, pests, and diseases. Identification of these cotton diseases and pest attacks, plus timely recommendations from plant doctors, not only help the smallholder cotton farmers to save their cotton crop but plant doctors are also teaching farmers to produce and use biological inputs, which keeps the cotton organic.
In conventional farming, cotton is considered a crop that is highly sensitive to pest attacks. Large quantities of synthetic pesticide are sprayed to keep them under control, which not only cause big financial burdens on smallholder farmers but they also create environmental and health challenges.
This can be effectively mitigated through promoting and protecting organic cotton crop. Plant doctors are trained to use completely different and biological methods to protect cotton crop from pests by establishing a diverse and balanced farm ecosystem, in addition to rigorous monitoring of pest populations in organic cotton fields.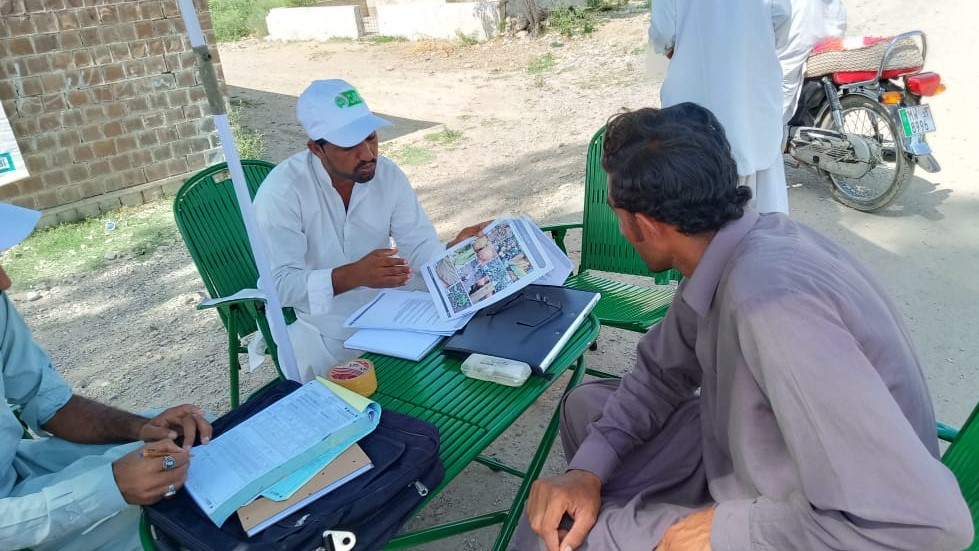 CABI has set up 10 plant clinics in the Barkhan and Lasbella districts of of Balochistan. Plant clinics are used as meeting, identifying, diagnosing and remedy recommending places where CABI-trained plant doctors help farmers in controlling and minimizing the economic loss of crops including organic cotton in project and surrounding areas. These plant doctors are contributing not only in protecting cotton crop but extending their services to other crops and farmers not associated with CAPAS project.
The plant doctors are using the Plantwise Knowledge Bank for precise identification and recommendations of biological cures for cotton crop. This is helping the poor smallholder famers of Balochistan to increase their household incomes not only by lessening their crop management expenses but also by increasing their per acre cotton production.
Find out more:
Promoting sustainable organic cotton production and supply in Pakistan
Conservation of beneficial insects through NEFR installation in cotton crop
Training of organic cotton farmers for seed multiplication
'Sowing the seeds' for organic cotton in Pakistan
About the authors:
Babar Latif Baloch; CAPAS Project Manager
Mohsin Abbasi; CAPAS Project Officer
Photos supplied by authors
Related News & Blogs
Pests and diseases of rice are a significant constraint in rice production, accounting for up to 30% of yield losses. Rice is cultivated in over 100 countries and is a staple food source for over half the world's population. Therefore, the sustainable…
28 November 2023