This article was originally published by SciDev.Net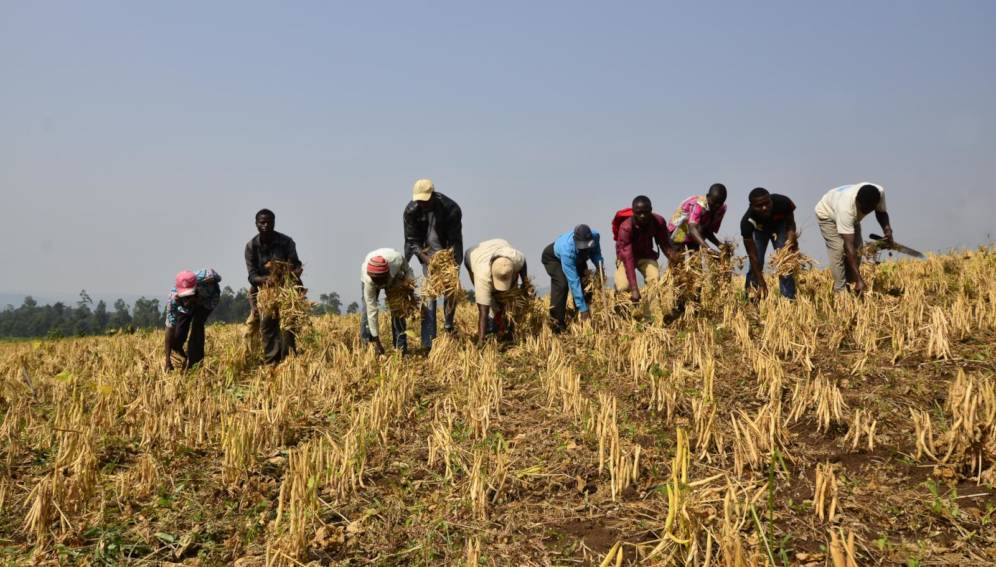 Governments need to support millions of smallholder farmers in Sub-Saharan Africa as the agriculture sector bears the brunt of COVID-19 lockdowns and trade restrictions, scientists say.
According to the UN Food and Agriculture Organization's Africa Agriculture Outlook 2016-2025, smallholder farms form about 80 per cent of all farms in Sub-Saharan Africa and directly employ more than 175 million people.
"Matters are grim with supply chains for agricultural activities disrupted by travel restrictions, lockdowns, containment and dependency on donations from advanced economies pulverised by the pandemic," says Ruth Oniang'o, a food scientist and joint winner of the 2017 Africa Food Prize, in an interview with SciDev.Net this month (19 May).
"Its [COVID-19] impact could be far reaching because it is not understood in terms of where it is going and for how long it will remain," Oniang'o adds.
"COVID-19 will make African governments identify agriculture as an essential sector that deserves maximum support and protection."

Stephen Mugo, International Maize and Wheat Improvement Center
Francs Nanga'yo, senior manager at the African Agricultural Technology Foundation (AATF), explains that the COVID-19 pandemic could lead to loss of crucial income and food security, citing reduced labour force due to sickness and death particularly of elderly farmers in their 60s and beyond who comprise a majority in farming.
Daniel Willy, programme officer for agricultural policy and economics at the AATF, says there could be an increase of 25 per cent of people facing hunger due to low food production.
He forecasts a recession for most of the Sub-Saharan Africa countries as an agricultural slowdown drastically reduces gross domestic products, adding that the pandemic could make about 27 million people extremely poor.
"Economic growth will reduce drastically to about 1.8 per cent in the best-case scenario or a contraction of 2.6 per cent in its worst-case scenario," Willy tells SciDev.Net.
But Stephen Mugo, Africa regional representative at the International Maize and Wheat Improvement Center, Kenya, says that the pandemic could offer opportunities such as rebuilding resilient local and regional supply chains for fertilisers, quality seeds, pesticides and other crucial inputs.
"COVID-19 will make African governments identify agriculture as an essential sector that deserves maximum support and protection," explains Mugo. "Urgent action is needed to ensure that adequate credit and other support are available when and where needed to strengthen farmers' ability to deliver."
Alex Miano, a tea grower who owns about 2,000 tea plants in Kenya's Kirinyaga County, is worried about the dwindling availability of fertilisers, pesticides and other farm inputs.
Like many other tea farmers, Miano is apprehensive that the quality of Kenyan tea ranked among the world's best could fall after Kenya Tea Development Authority (KTDA) declared that international travel restrictions are hampering efforts to import a special fertiliser for growing tea.
"Farmers usually pay KTDA from bonuses at year's end. That we have to resort to un-recommended compound fertiliser varieties portends a looming disaster," Miano tells SciDev.Net.
According to Miano, the dusk-to-dawn curfew resulting from COVID-19 has resulted in harvested crop remaining uncollected, compromising quality with subsequent lower prices or some harvests being thrown away with immense losses.
For farmers of perishable products such as milk, fruits and vegetables, COVID-19 dictates a choice between throw-away prices and utter wastage.
Isabel Mbugua, a dairy farmer, says that price of milk has fallen from about 46 US cents a litre in the pre-pandemic era to about 27 US cents.
A flower farmer, David Kairu, adds that farmers have been throwing away tonnes of produce, incurring huge losses and laying off workers due to lockdowns in Europe and flight cancellations.
Margaret Wairimu's grain store in Nairobi's Nyamakima grain market is thinly stocked as transport hiccups from containment policies against COVID-19 take a toll on her operations.

"Little is coming from within the country while supplies from neighbouring Uganda and Tanzania have virtually stopped," she said.
Paskal Othieno, a poultry farmer in Uganda's Tororo District, says he has been unable to access the lucrative Kenyan market due to cross-border movement restrictions.
 
"I used to sell eggs to Kenyan traders, making over US$350 per month," he says. "I hardly make US$200 these days and have had to reduce my workforce." 
This article was originally published on SciDev.Net. Read the original article.
Related News & Blogs
As demand for food grows globally, farming practices must intensify. Farmers will need to use more low-risk tools to tackle plant pests and diseases. Pesticides are an important tool for pest management. However, they should be seen as part of a kit of…
24 August 2023