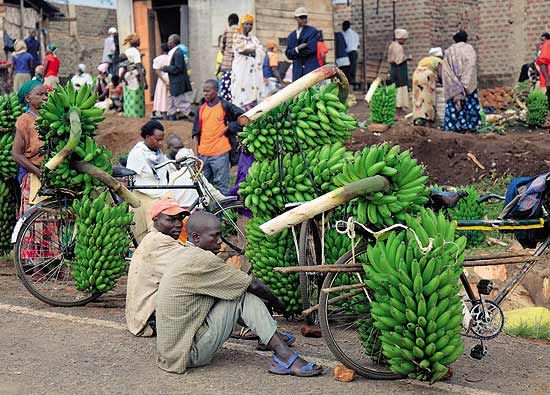 In Uganda the majority of the young people are unemployed, and efforts to create employment opportunities within the agriculture sector are yielding little to no interest among them. Agriculture is not viewed as a viable employment sector, due to the perceptions that agriculture as a profession is labour intensive, results in high crop losses from pests and diseases, and generates low income with little profitability that cannot support their livelihoods.

Unlike other young people in Uganda who harbour negative attitudes towards agriculture, Kisembo Charles (33), a first-born in a family of five, is passionate about farming. He lives in Kitema village in Kagadi district with his wife, children, and siblings. Kisembo engages himself in producing bananas, mangoes, cocoa and oranges, and has spent six years in farming. His main crop is banana, but the banana xanthomonas wilt (BXW) (Xanthomonas campestris pv. musacearum) and banana weevil (Cosmopolites sordidus) were ravaging his banana crop for most of 2016 and 2017, a time when his banana crop was just beginning to fruit. In Ugandan villages, it is common practice for farmers to share banana planting materials with one another, a practice that is contributing to the rapid spread of pests, resulting in many banana fields being affected by the banana weevils.
Larvae of the banana weevil feeding their way through the rhizome and pseudostem of a young banana plant.
Kisembo had made numerous attempts to control the banana weevils in vain after being sold fake pesticides from unscrupulous agro-input dealers in his local town. These fake pesticides only ended up draining his money year in, year out and he saw the production of his bananas and incomes dwindle. Unfortunately, the banana enterprise was his main source of income to provide food for his family and support to pay school fees for his four siblings. Due to these challenges, he had almost given up on banana production.
In his desperation to find a solution to these two problems, Kisembo recalled that sometime in 2016, he had heard about someone called a 'plant doctor' sharing his contact details on a local radio station. In March 2017, Kisembo contacted the plant doctor, Charles Tumuhe, seeking advice on how to manage the banana weevils and BXW in his field. The plant doctor visited the farm, assessed the problems and advised him to control BXW by using clean farm tools by passing them through a fire flame before use, removing and destroying infected BXW plants, weeding, regulating entry of animals and visitors into his banana field, and timely removal of male bud with forked stick. To control the banana weevils, the plant doctor advised him to use weevil traps (placing a piece of banana stem on the ground after harvesting to attract weevils from the soil which are later killed), removing rotten banana stems to reduce habitats for weevils, mulching at least half a foot away from banana stool, and chopping banana pseudo-stems after harvesting. Kisembo diligently followed the advice of the plant doctor, and as a result, he was able to wipe out both the banana weevil and BXW from his banana field.
To help the other farmers like Kisembo in the village tackle the banana weevil and BXW, the plant doctor held plant clinic sessions at Kisembo's farm, for the other farmers to learn together on how to manage and control the two problems. With the knowledge gained from the plant doctor, the farmers resolved to work together and collectively buy genuine pesticides to manage the two banana problems.
"Banana xanthomonas wilt was finishing off my bananas. With guidance from the plant doctors, I have completely chased it out of my farm. It is hard to find it even in the neighborhood. This was because we all learn together" said one banana farmer who attended the clinic.
Kisembo has now started helping farmers from in Nyabigata, a neighbouring village, to fight the banana weevil and BXW in their fields by sharing clean suckers with them. In 2018 alone, Kisembo distributed 2,000 clean suckers for free, to the farmers to help them establish clean banana fields. When other farmers come to collect suckers, Kisembo, his wife, and the plant doctor carry out checks to ensure they are clean for sharing.
Kisembo can now harvest up to 100 bunches of banana (Matoke) in a month from an acre of land, earning him a handsome 1.5 million Uganda Shillings (US$400). He has used part of this income to set up a pork roasting business in Kyenzige town, for a second source of income for his family. His enthusiasm in farming has been greatly been rejuvenated because he now employs himself, his wife and siblings. He has also bought one more acre of land, and is helping educate his siblings, some up to certificate college level, and one is in his final year in University.
Useful links
Further reading
Related News & Blogs
The important role plant clinics play to help smallholder farmers in Nepal grow more healthier and profitable crops free from pests and diseases has been highlighted at the 10th International Plant Protection Symposium. In 2008, the Global Plant Clinic…
20 November 2023