About Plantwise
Today over one billion people are going hungry – many of these are in rural farming communities. We believe we can improve food security and reduce poverty by reducing crop losses. Incredibly, we still lose up to 40% of what is grown due to pests and diseases. For every 1% reduction in crop losses, we can potentially feed millions more people. This can be done today – with no extra use of land, water, fertilizers or chemicals.
We can reduce crop losses, increase yields and improve lives, by tackling pests and diseases. With the right knowledge we can identify pests earlier, slow down their spread and provide the correct treatments before yields are significantly affected. Plantwise will make this knowledge accessible to those who need it.
Plantwise will deliver knowledge in two ways – face-to-face via a network of plant clinics in the developing world to help the poorest farmers and internationally via a comprehensive global knowledge bank.

How Plantwise works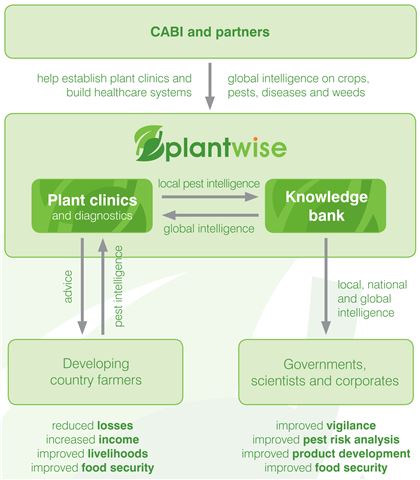 Plant clinics
Our CABI team helps developing countries set up and run independent plant clinics and build plant health networks. These clinics, staffed by trained 'plant doctors', help farmers find solutions to their crop health problems. These clinics can prevent farmers suffering devastating crop losses. Find out more about the plant clinics >
The Knowledge Bank
CABI is developing a powerful early warning vigilance system to help in the fight against pests and diseases – the Plantwise knowledge bank. CABI will capture data about new pests and diseases from scientists, published sources, official bodies and validated plant clinics records, and map this information with greater granularity than ever before. Working with partners this data will be combined with the best information in the field to provide a comprehensive knowledge bank on crops, pests, diseases and weeds. Find out more about the Plantwise knowledge bank >
We need your support
Development of the knowledge bank and expansion of the plant clinic schemes is underway, but we need your support to make this exciting vision a reality. If you are a potential donor, content supplier, partner or customer we want to hear from you. Please contact us today.